Last night I went to check out the launch of Tesco's new Florence and Fred couture range. Everyone was cooing over the pagoda dress, which came in purple or grey (pictured) and which had this amazing wired collar that you could manipulate to wear the dress in so many ways. I really loved the sequin pieces, most notably the silver jacket with the sharp shoulders (also pictured) and the matching harem trousers in silk with the sequinned peplum. The other stand out pieces for me were a lovely floor length cloudy patterned skirt and matching top.
All the harem pants in the collection make me really wish it was a look I could pull off, but I just don't think they'll ever work for me. Although I really liked the collection, and there were a couple of really covetable pieces, I do wonder who will be buying it: couture or not, the price point is pretty high for a supermarket collection. I think the quality of the clothes deserves the higher price, and most is made with premium fabrics such as silk, but I think they are going to have to work really hard to shake off the cheap fast supermarket fashion perception. I think the fact they are only
selling the collection online
instead of instore is a good starting place.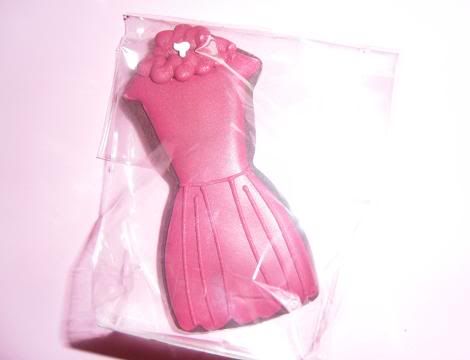 As well as the chance to look at the new collections, Tesco had also made the most adorable cupcakes with each blog name written on them, gave us cookies with the pagoda dress on them, and set up a nail bar where WAH nails gave all the bloggers fingers a make over. I just managed to take a picture of the cookie before it started looking too temptingly eatable! Like nearly everyone else, I went for leopard print on my nails. Mine are on a stripey pastel background: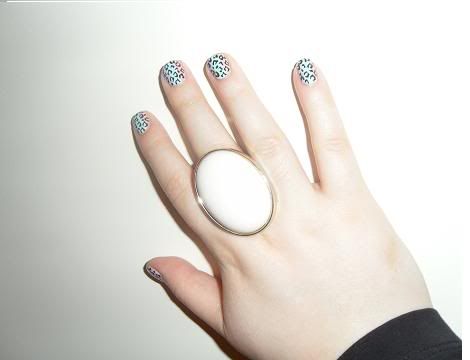 I absolutely love them! I always see women on the tube in their tracksuits with great nails and wondered why they bothered, but now I know: it makes you feel great about yourself, no matter what you're wearing! I know this because i'm sat in my PJs and keep looking at my fingers and smiling to myself!
I'm interested to know what you guys think of F&F couture: Are there any pieces you really love? Does the price point put you off or is quality more important than the label inside the dress?
Love, Tor x
PS - Don't forget to
enter the competition
to win a piece of Emma Hadley jewelley: only one week to go!