On Monday this years Fashion Targets Breast Cancer (FTBC) campaign will be launching, and I am lucky enough to be going along (as usual expect a full report!) This year Mario Testino will be supporting the campaign along with three of the "worlds biggest stars" from film, fashion, and music. They won't say who these mystery supporters are though, so we will have to wait until Monday to find out.
This year the campaign is called "wear your support" and its all about showing your support for FTBC by wearing a special design for the charity from one of your favourite UK brands: M&S, Topshop, River Island, Coast, Warehouse, Laura Ashley, Superdry,Whistles, Melissa Odabash and my-wardrobe.com are all getting involved. I love it when you can go shopping and feel like you're doing something to help people at the same time, and given the brands involved i'm hoping the FTBC designs will be pretty wearable too.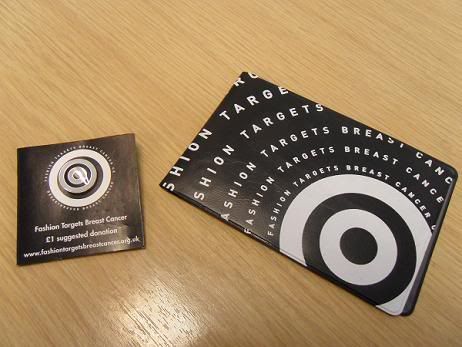 As well as the big money items (lingerie from M&S and a dress from Coast for example) there will also be pins (£1) and bracelets (£2) which you can buy from River Island, Topshop and Superdry and travel card wallets from M&S. I know these have been out there for years but I think they're such a good idea: not only do they show your support they also remind other people of the charity and hopefully they will want to get involved too!
It only costs a pound or two to show you care, and with 1 in 9 women developing breast cancer at some point in their lifetime you never know when you or somebody you love will need the support (although obviously I am touching wood that this dreadful desease doesn't affect any of you!) I really like the FTBC campaigns: I think its great to see the fashion industry use its powers for good rather than for evil!
Love, Tor xx
PS - I'm sure you don't need me to tell you this but please make sure you all stay healthy and have a good fondle of your boobs every now and again! Wow, I hope that didn't sound too Trinny and Susannah! :)