I know that sales assistants often get a bad rap: the stereotype is of surly youths with attitude or stuck up older types who don't want to help. So when I was given exceptional service on Sunday I thought it only right that I share it with you, especially given that it came from a rather unlikely source. I wasn't in a boutique or a designer shop or even a more high end highstreet store: I was in
Peacocks
rifling through the sale rails with my sister!
We took our purchases to the till (nightwear for the sister and the shoes below for me) but Amie's didn't have a price on. She asked how much (as you do!) and was given the price. Then the assistant standing next to my sister said "I can give you an extra 40% off that if you like" "How?" asked my sister somewhat suspiciously. It turns out that the staff are given a certain number of friends and family promotion cards and that the "Spring" ones expired that day. She had some left and wanted to do something nice for us: we were total strangers! And who says human kindness is dead!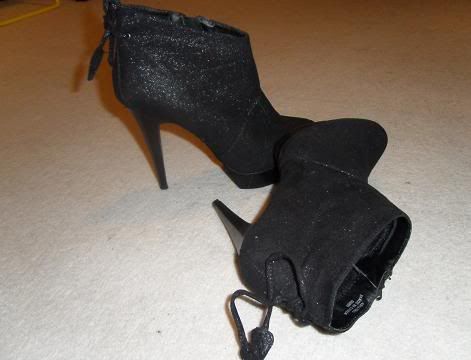 We gladly took her up on her offer and my shoe boots which had been £28, then reduced to £14 actually cost me £8.60! I wish I had taken the girls name, because I want to say thank you to the sweet girl who served me in the Edgeware branch of Peacocks! Going the extra mile, being helpful, personable and friendly all make the difference between a good shopping experience and a bad one. In my opinion, good sales people are worth their weight in gold! (Whether they give you great discounts or not!)
If you're a great sales assistant who knows their fashion and style and secretly dreams of being a super stylist then Elle have the perfect competition for you! Elle are after the high-street heroes who style the nation. If you work in retail and want to be an ELLE stylist, they're offering you the chance! ELLE is launching a nationwide search for talented shop girls – and boys – who have what it takes to become an international stylist.
The winner will get the chance to style a shoot for ELLE, plus an internship on the magazine and expert mentoring from ELLE's fashion director, Anne-Marie Curtis.
You can find out more and enter here.
I'd love you to let me know if you enter - it makes me wish I worked in retail!