I didn't even realise the mid-season sales had started, because i've been so busy over the past couple of weeks (too busy to scour the shops, can you imagine!?) However on Saturday, after the
Skinny Cow swap shop
my sister and I popped into Debenhams for a stroll and a cup of tea (I realise that makes me sound like Bridget Jones mum!) and I noticed that a lot of the concessions were sporting sale signs, with the biggest selection coming from
Warehouse
. My need for tea and cake was too great for a proper look, but when I got home I went straight to my computer to see if it was worth a re-visit. The verdict? Definitely worth checking out!
On the website there are 87 items in the £10 or under section, including some basic cotton tops, lovely denim skirts, and a massive selection of belts, scarves, and jewellery. I always worry with mid-season sales that you'll only be wasting your money on clothes that it will quickly get too warm to wear, however there are some really versitile pieces that could carry you all the way through to Spring/Summer.
I can't wait to hit the highstreet and try some stuff on, but in the meantime here are my picks of the sale from the website: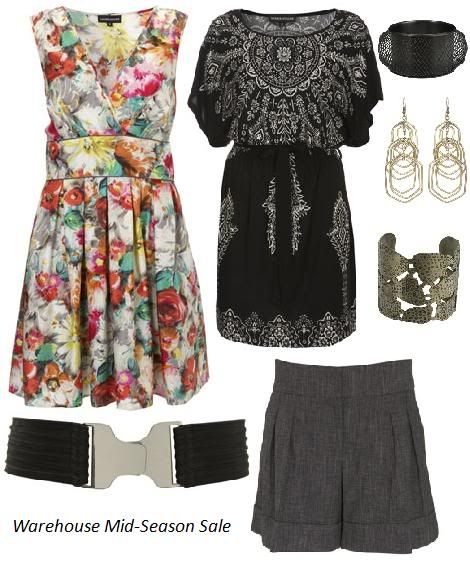 Everything pictured comes in at under £30. I love the pleat fronted city shorts (which also come in black) they would be great with tights for now and with sandals for in the summer. I love the belt which on the surface is very simple but which reminds me of an aeroplane belt: utility cool. The jewellery is pretty cool too (and each piece is reduced to £4 - bargainalicious!)
Are there any other mid-season sales you guys have been checking out? Whilst i've been rushed off my feet and neglecting the shops (sob!) what have I been missing?!
Love, Tor xx