Last night I went to the hotly anticipated
ASOS
access all areas event. I'm really excited that so many great brands are reaching out to bloggers and giving us the chance to explore their collections close up: I think this is especially important for an online brand such as ASOS. We were given the opportunity to mingle with other bloggers whilst supping champagne and nibbling canapes and then there were rails full of new season clothes to rifle through and try on: heaven!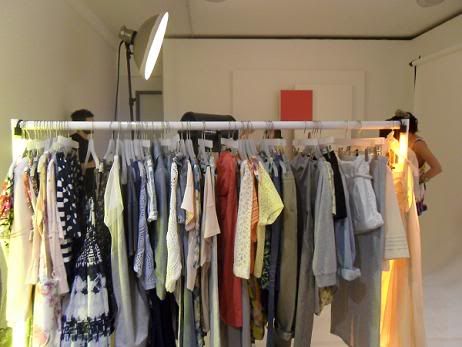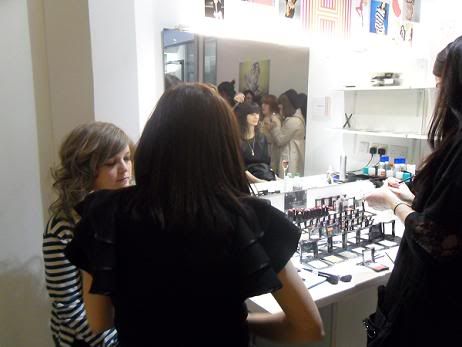 There were hair stylists and make up artists from
Illamasqua
(a brand I have to try again, the make up lasts and lasts) and then, once we were all dressed up we were ready to strike a pose first for the photographer, and then on the catwalk. Strutting on the famous ASOS catwalk was a must, although it was one of the most embarrassing things i've ever done: it's a good job I wasn't built like a beanpole, as i'm far too shy to be a model! And it gives you a new respect for the ASOS models I watch walking up and down it every lunchtime: it's not easy!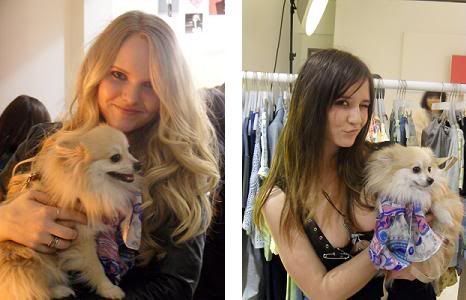 Star of the show however was
Butters, the fashion dog
, who had everybody cooing and clucking like mother hens. She is adorable, and a better walker than most of the bloggers too! Here she is posing with gorgeous bloggers
Scarlett
and
Emily
in her ASOS paisley scarf.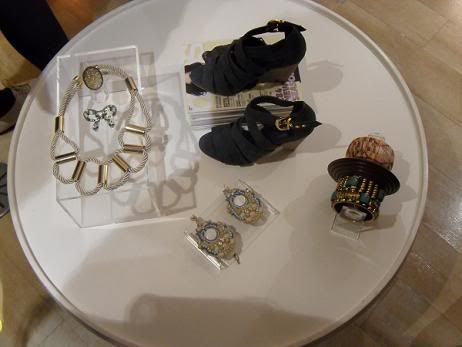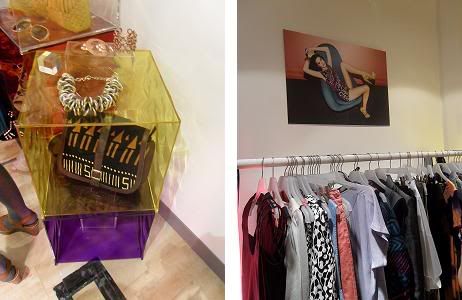 The range of clothes to try was excellent and I was especially impressed with the accessories (hence why I took so many photos of them!) The buttery soft mustard leather bag below was a favourite: I couldn't stop stroking it!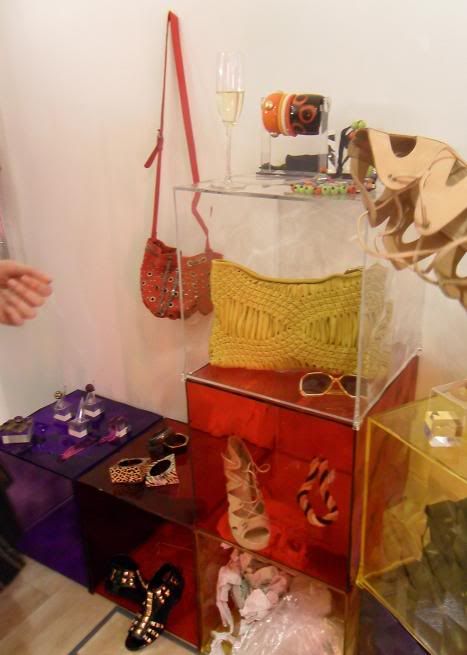 Every trend you could fancy for spring/summer was covered including some lovely nude and lace tops and some bold tribal prints. There were also some great dresses with structural details including a really special black bodycon dress with caged shoulders. I tried on two gorgeous evening dresses perfect for balmy summer nights: pictures of those to follow. There was an incredible grey marl sweater with a sheer peachy chiffon panelled back which I fell in love with but didn't take a photo of (
it's on the site here
) I would love to experiment with this over floral patterned body con dresses. And we all know i'm a shoe addict so this is predictable but: sigh! There were stack heels, platforms, wedges. And some peep toe summer booties in tan or black that I loved: peep toe booties (summer boots, if you will) are the next item on my "must have" list.
All in all I found myself longing for the weather to perk up and looking for an excuse to spend some time online shopping for my new summer wardrobe: It was a fantastic night.
Love, Tor x
PS - In the spirit of disclosure, we were also given a wonderful goodie bag containing a Illamasqua lipgloss, gorgeous necklace (I'm wearing mine now) and a gift voucher, which I just spent: can't wait to show you what I chose!