So, last week when I posted the UK-only reebok competition, I promised you guys that I would post a giveaway for my American friends. However I don't often work with American brands. So when I was invited to post about this one, I decided to share:
This is a Sponsored Post written by me on behalf of KAO Brands. All opinions are 100% mine.
KAO brands (who I hadn't actually heard of until today!) own Jergens and John Frieda, amongst loads of others. (Curél, Bioré, Ban, Guhl) These are the two of their brands I have actually used though - where would any of us be without frizz ease?! They have set up a new microsite called
Temptation is Beautiful
. Basically, all you have to do is visit the site and enter your email address for a chance to win a weekend of temptation in Las Vegas with three friends. Plus, you'll be automatically entered for a chance to win today's daily beauty basket prize. (I think it's probably more realistic to think you will win one of these, but you never know!)
For a corporate micro-site the website is pretty cool (believe me, i've seen a lot of awful ones!) As well as the competition, there is a temptation quiz where you can decide your temptation level. I know it's childish, but I love stupid quizzes, and I get really excited when I get a good score. Plus when else do I get told i'm hot, hot, hot: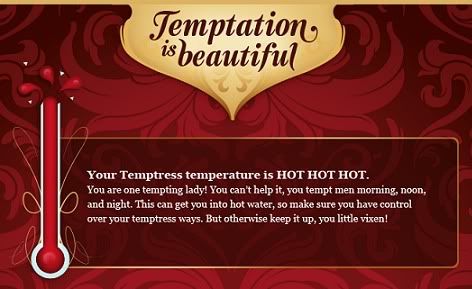 It's a bit ad-heavy for my tastes but I find that on a lot of American websites. And the quiz masters accent drove me crazy but maybe that's just because i'm not used to it! So why don't you give it a go? You might win a prize or at the very least you can tell me how hot (or not!) you are. Or that you despised the computerized sex kittens accent too!
This is the first sponsored post I have ever written, and I opted to try it because there was a prize for you guys involved (and a promise is a promise!) If you don't like sponsored posts please let me know, as it will help me make a decision about whether or not to write another.
Love, Tor xx