Hi guys,
Well the title says it all! With a little help from
Weight Watchers
, Louise Roe, and the lovely Reena (of Fashion Daydreams) I am hosting a twitter party. And you're all invited!! I can't promise there'll be cocktails and canapes, but I can promise great company, fashion advice, and lots of friendly banter! You can follow the conversations with #wwfashion so you don't miss any fab tips.
So what's in it for you, I hear you ask? Well firstly, you get to talk to me, Reena, and Louise and ask us any fashion-related questions you like. Want to know what shoes will you with your new frock? Not sure how to pull off neon? Need advice on how to dress your body shape? We can help!
Secondly, we will be giving away Debenhams vouchers to our favourite contributers during the chat. So if you have a great question about shoes, you could win vouchers to buy new shoes (Mmmm, shoes!) All the details are in the invite below: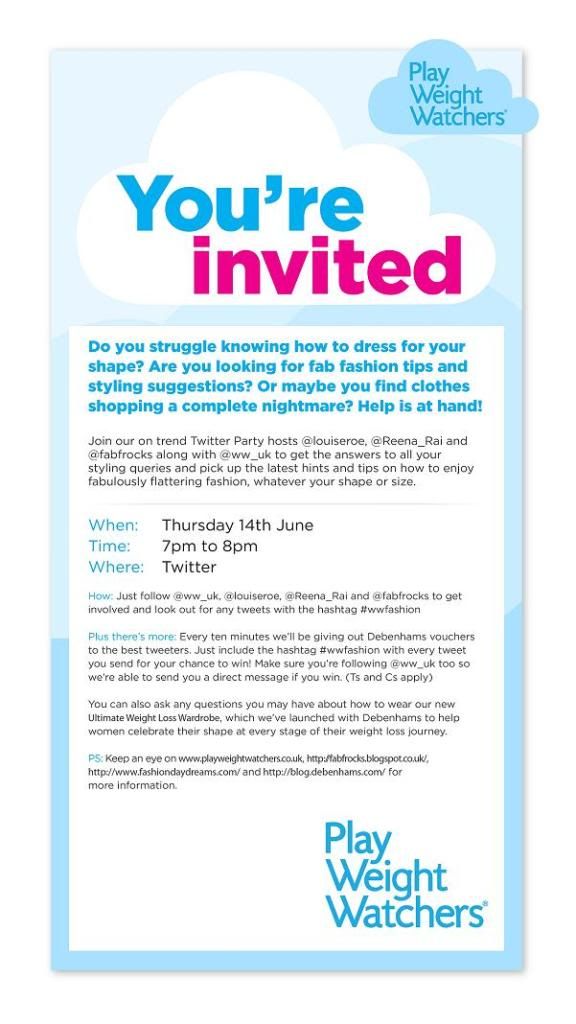 I'll be reminding you of the date regularly as it approaches, and I really hope you can join me! Make sure you're following me on twitter (
@fabfrocks
) and if you want me to be the one who answers your question, please include @fabfrocks in your tweet, so that I'll definitely see it. I look forward to seeing you there!!!
Love Tor xx