Hi guys,
Well it's day two of my Weight Watchers Weight Loss Wardrobe and, given the weather pattern at the minute, I wasn't surprised that it rained. Sadly, this meant my grey flatform sandals had to go back into the wardrobe, and it was time for a replan.
Today's challenge was, well a challenge. I had opted to style up the red shirt dress from the wardrobe: a double whammy of problems for me because I
hate
wearing red, and struggle with anything shirted because for shirts to fit properly on the shoulders and body, they're usually straining at the bust. This dress fit nicely though. I was surprised: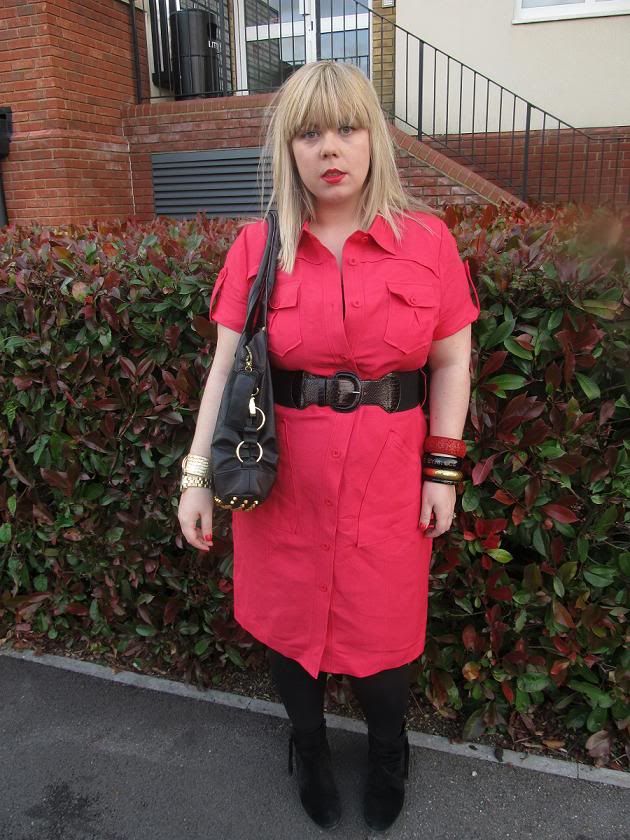 Red Shirt Dress, Debenhams (from the WW weight loss wardrobe)
Black waist belt, Debenhams (from the WW weight loss wardrobe)
Black ankle boots, Georgia Rose @ Sarenza
Black bangles, See by Chloe
Black studded handbag, Fris & Co
Gold watch, Marc by Marc Jacobs
Because the colour is so attention grabbing in its own right, I styled the dress simply with black accessories (including my favourite wet weather ankle boots) With the addition of my trusty black mac and sensible with-a-twist black handbag, this outfit was perfect for a day at the office. I rarely dress this smartly, so it made a nice change for me.
You can view more detail pictures of the outfit over on
the Play Weight Watchers website
, including close ups of the outfit, jewellery, and shoes.
Reena of Fashion Daydreams
is also taking part in the challenge, so you can also see what she is doing with the wardrobe at the same time!
And to find out more about the Weight Watcher Weight Loss wardrobe and why I'm taking part
click here.
So, what do you think of today's outfit? Am I getting away with being a
lady in red
or is it time I got off the dancefloor? I'd love to hear your thoughts!
Love Tor xx