Hi guys,
Following their devastating warehouse fire that saw them lose a whopping 20% of their stock last week, no one expected
ASOS
to brush themselves down and carry on quite so quickly: But that's exactly what they did when they launched their mid season 50% off sale at the beginning of the week. Thay also released a press release announcing that they will be donating all of their unsaleable smoke damaged stock to charity: bravo ASOS, on turning what could have been a total disaster into a positive PR opportunity!
That ASOS is the nations favourite online store is clear, and it makes perfect sense: not only is there own brand fashion forward and affordable, you can also buy thousands of other hot brands through their website too. Which is why my current lust list features everything I want from the ASOS sale: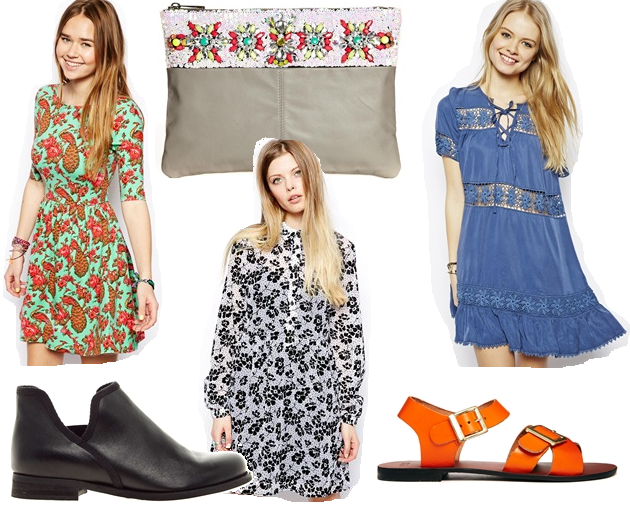 ASOS firestorm leather sandals, £16
ASOS leather jewelled flower clutch, £28
ASOS Peacock print skater dress, £14
ASOS Premium denim smock dress, £27
ASOS reclaimed vintage 50s shirt dress, £30
ASOS Leather Chelsea boots, £22
Because age is obviously making me far too sensible, everything I've picked could be worn right now, but also all the way through Autumn/Winter as well. I love dresses with sleeves, and these loose smock-type dresses look amazing with fitted leather jackets and lovely thick tights. Winter really is my favourite season to dress for!
Have you picked up any bargains from the ASOS sale so far? And how are you finding the mid-season sales in general- is there any shop (online or off) that has left you particularly impressed so far?
Love Tor x