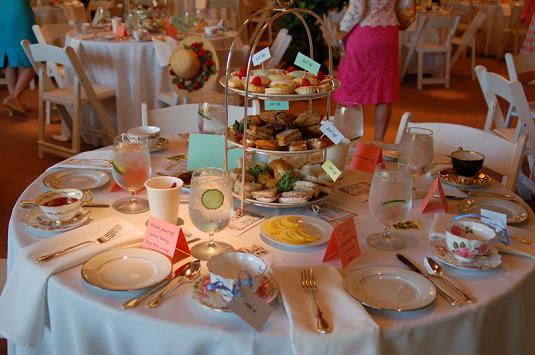 Hi guys,
As you know doubt already know (I talk about it enough!) the theme of my wedding is Alice in Wonderland and the Mad Hatters tea party. We're having flowers in tea cups, tea pot favours, and all manners of other whimsical things. Which is why
Marie Curie's new "blooming great tea party
" campaign resonated so much for me.
Marie Curie are asking people to hold tea parties to fundraise for Marie Curie nurses who provide free care for people with terminal cancer and illnesses in their own home. Tea parties big and small will make a difference in helping terminally ill people spend their final days at home. Every £20 that's raised will pay for an hour of nursing care. 1 in 3 people in the UK are affected by cancer (either themselves or someone they love) so I think caring for those people is something we all think about/know about.
The best thing about throwing a tea party or getting involved in the campaign is, this only has to be as much hard work as you want it to be! Your tea party can be everything from a vintage high tea (the fashion bloggers dream) to agarden party, our just a cuppa and a cake in the office with colleagues. The 'official' tea party season lasts from June 12th to July 12th but people
can register
to hold one any time up to 31st July. My wedding is on July 15th, and I think i'm going to register and hold a party in my office for the week before that: that way I can celebrate my big day with my work friends that can't make the wedding, and save some money for a good cause too.
Will you be throwing a party? What theme will you have? Wedding planning has turned me into a party planning addict, so i'd love to hear all about it!
Love,
Tor xx