Hi guys,
I've found myself being more and more interested in everything around me being aethetically interesting, and my house (which started life looking like an ikea starter home) is my newest project. Mike's natural instinct is for things to be clean and simple and minimalist. I prefer things to be more cluttered, and I love old vintage/retro furniture which is a bit beaten up, and looks like it's had a life. Our house is a compromise of both of these things, and i've spend the last couple of months scouring antique shops, car boot sales, and charity shops looking for new furniture to breathe a little of my taste into the living room: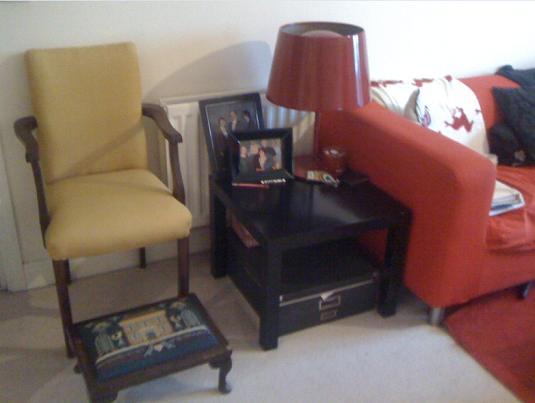 I love this yellow wing back chair, which I got from a car boot sale for £6: the mustard colour of the fabric is gorgeous. The following week on the same car boot sale (and for just £5!) I found this embroidered footstool with the cutest mustard coloured house on it. It was fate! The dark wood on both isn't to my personal taste, but I plan to strip it back and repaint it: it's the first job on my things-to-do list after the wedding!
As well as buying new old furniture, i've also been repurposing some of our original furniture. This futon (a gift from my mum) is one of the most useful pieces of furniture in our house, and gets loads of use. But the colour doesn't match our living room at all: cue blankets, cushions, and voila! A perfect little corner snug in our living room that overnight guests can sleep on too!
The next thing on my "really really want" list is a cabinet for my fancy china and other bits to sit in our living room: i've been searching for the perfect one for over 6 months. It has to be right around the corner - but half the fun is in the hunt!
Love Tor xx