Hi guys,
You may or may not know that as well as blogging for so many sites it makes my hands hurt, I also work for a parenting website/magazine: that's what I call the day job! Choosing maternity clothes for every occasion, writing about breast feeding, putting together outfits for yummy mummies: if it would interest a mum then I write about it! Babies are quickly taking over my life. I write about them all day at work, and spend as much of my weekend time as I can playing with them: well, one in particular!

Since my sister Lucy had Lily Grace (my darling three month old neice) I want to see her as much as I can. I have also become further obsessed with baby clothes: if it's cute, tiny, and pink then I can't resist buying it for her! I have also become that aunt: the one that buys all the soft toys that get in the parents way, and teaches the baby bad behaviour! I can't wait until she's old enough to take to the fair and spoil with icecream!

So I thought it was time that instead of just focusing on womens clothing I would do what I do in the office for a bloggy change: pull together some hot summer pieces for any mamas with bumps. Because I think its so easy to forget that just because your pregnant doesn't mean you don't want to look fashionable too!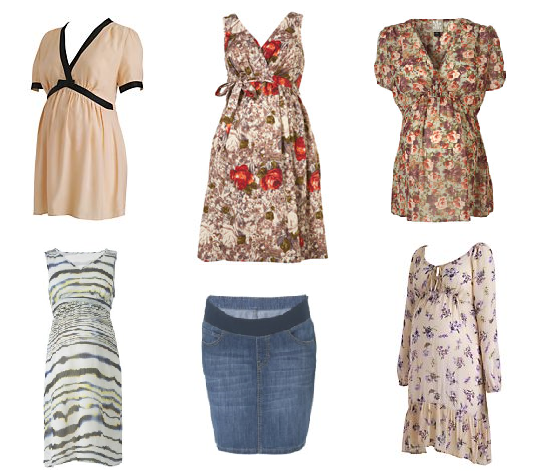 Top row: Cream top Littlewoods £18, Sundress Topshop £36, Rose print blouse Topshop £32.
Bottom row: Zebra print dress £38 Mothercare, Denim skirt £26 Mothercare, Floral top Littlewoods £32.

Its an embarassing secret that I have a minor phobia of pregnant women. It's not so bad during the early stages, but what the bump is so big you can see it moving? It gives me palpatations! Still, with these cute, flowy dresses and tops you wouldn't have those problems: the bump would be covered and the focus would be on the fashion instead. Everyone's a winner!
Love, Tor xx
*This is a sponsored post