I missed last weeks etsy obsession, because my etsy trawls lately have mostly lead me on wedding hunts: it's amazing what you can find on that site, and even more amazing how much of it I will be attempting to make at home!
Today though I gave the wedding hunt a miss and began my hunt looking for the perfect bikini: I always generally opt for a one piece to hide my wobbly tummy, and have already written a couple of posts this year about the perfect onesy, but now i'm looking for a bikini. I want to get brown, and sadly that means revealing a little bit of flesh!
Winona of Daddy Likey has written a series of great posts about finding the perfect swim suit for bigger girls: turn to her for the funny!! For the best place on etsy to find an affordable vintage inspired bikini (vintage swimwear is most flattering on curves) stay on the page: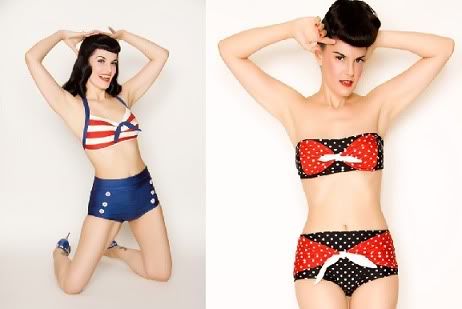 I love these bikinis from
Fables by Barrie
especially the sailor pattern and the high-waisted shorts (to keep wobble under control) It is the perfect compromise between getting bronzed and staying covered up, and I think it looks more sexy than those tiny little string things which only really suit swimwear models!
Top and bottoms from Fables by Barrie will set you back around £100, which is more than your average swimsuit, but they have a timeless classic appeal and they look like quality garments too.
I hope you all have great bank holiday Monday fun: i'm going to the Hatfield Galleria for their discount craft shop, to get the rest of the things I need to make my wedding invitations. Have a good one guys!
Love, Tor xx