I don't have the best legs in the world: they're short and curvy. From the knee down I am prepared to share them with the world, but from the knee up? Forget about it! This makes dressing when it's really warm difficult. I don't want to wear dresses without leggings but it's too warm to wear leggings. And jeans? Way too warm! So I got it in my head that the answer to my problems was a nice slouchy pair of cropped hareem pants. However i've tried on hundreds of pairs in Topshop and Zara and can't find a single flattering pair. Front pleats made my hips look big, the waists were too high or too low, the bump clung and sagged at the same time (not a good look!!) The Topshop denim ones were the worst of all and looking at them in the mirror made me want to start crying in the changing room. I'd read articles on the subject before and decided to agree with the experts for a change: hareem pants weren't for curvy girls. And then, whilst looking for leggings, I found these one's in H&M: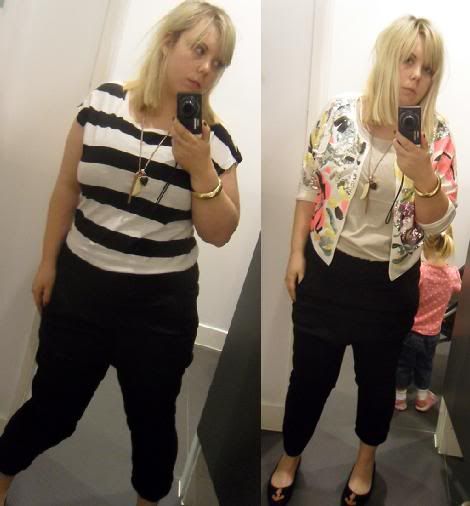 I honestly didn't think I was going to find a pair of hareem trousers that looked good on my body, but I love these. They're slouchy and comfortable, will be perfect for work or play, and they're light enough that I can wear them all summer long. I think they look good because they have no pleating and fit like normal slim-leg trousers in silhouette. The only traditional hareemfeature is the dramatically lowered crotch. These are hareem trousers for everyone!!
H&M price points seem suprisingly cheap at the moment too: The trousers were £14.99, the slouchy tees i'm wearing in both pics were just £2.99 and the sequinned cardigan was £29.99. I especially love the trousers with the stripey Tshirt and think it will look amazing teamed with one of my many hundreds of blazers. I also love the sequinned cardigan, so glam! I can't wait to try out my new outfits!
Love, Tor xx