I always struggle to find swimwear to fit, but I love to swim both in my local pool and especially when i'm away on holiday. So as you can imagine, I was delighted when
Debenhams
asked me if i'd like to review one of their Designers at Debenhams pieces. There was so much to choose from, but sadly their two pieces in the ranges don't include my cup size, so I opted for a
simple black one piece
from J by Jasper Conran instead.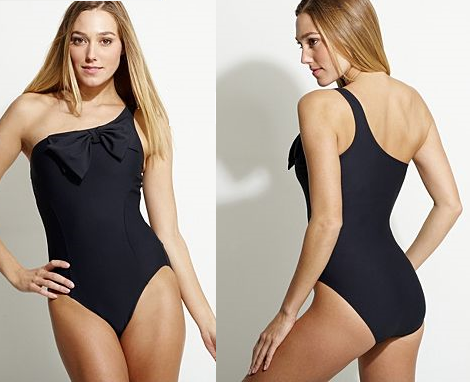 I loved the simple black colour (I mostly opt for black swimwear, working under the illusion that it's slimming) but with the added details of the one shoulder and the bow. The fit is really good and the tummy control works, but doesn't feel uncomfortable. I liked the bow in the flesh, though it looked a little small against my chest.
My one issue with the suit was that I just couldn't keep it up! I was hoping the suit would come with a small detachable strap so that I wouldn't be worrying about it all the time (especially when i'm swimming) but it didn't and I really struggled to stop the top sliding down on one side: even a particularly bouncy walk could lead to boobie exposure! The fit on the hips and bum was really good though, and I think that the top would have been fine on boobs that needed less support: this was probably more an error with my choosing process than anything else!
This certainly isn't a swimsuit i'll ever be able to swim in, but for posing around the pool on days when i'm feeling too self conscious for my usual two piece, it will be perfect.
Love, Tor x
PS - You can read a
nice little interview
with me, in which I don't make myself look too stupid, over on the
Qype website
, as part of their series of blogger interviews.