Morning guys,
With just two days until my birthday (i'm turning 26 and feeling old!) I decided to spend an hour trawling the internet looking for something special to spend my birthday money on; I have to make myself spend it on something lovely, or it gets frittered away on nothing so easily!
Whilst browsing through
asos
I turned to the designer collaboration section and noticed that the colourful textured Louise Gray dresses I had coveted a while ago had been reduced to half price making them a
very
reasonable (they were reasonably price to start with!) £30 to £45.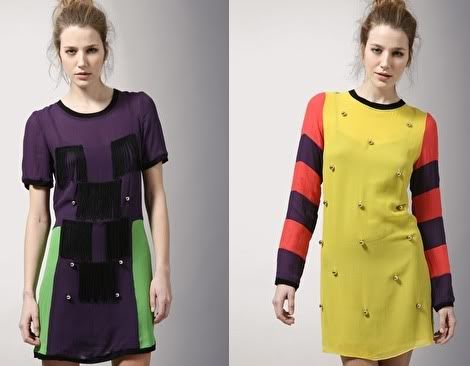 Left to right: Fringe dress (was £80 now £42) Stripe sleeve dress (was £80 now £42)
Left to right: Panel dress (was £75 now £30) Tshirt (was £45 now £18)
I absolutely love the top two dresses, particularly the purple one with the fringing and the green panels. It's made of 100% silk, so it will feel like a dream, and I really love T shirt shape dresses: this would look amazing dressed up or down. The yellow dress is also appealing, particularly it's awesome dennis the menace sleeves! Again this is 100% silk, but I find it a bit off putting that you can see the models black slip underneath the dress: maybe with a nude slip (and if I promise to be really careful with the obviously delicate fabric!) I could make this dress work for me. I'm thinking of picking up one of them as my birthday treat, it's just hard knowing which one to choose!!
Have a great Monday!
Love, Tor xx