Hi guys,
I don't think there is a brand more suited to busy mums that care about fashion (ie women like me) than Barbour. When you spending your weekends marching around farms, zoos, duck ponds, dinosaur parks or chasing across the beach no matter what the weather, you need clothes that are practical above all else. But damn it, that doesn't mean you can't look good! And along with my Hunter wellies and my GAP skinny jeans, I think a Barbour jacket is the ultimate statement piece of mum-on-duty cool kit.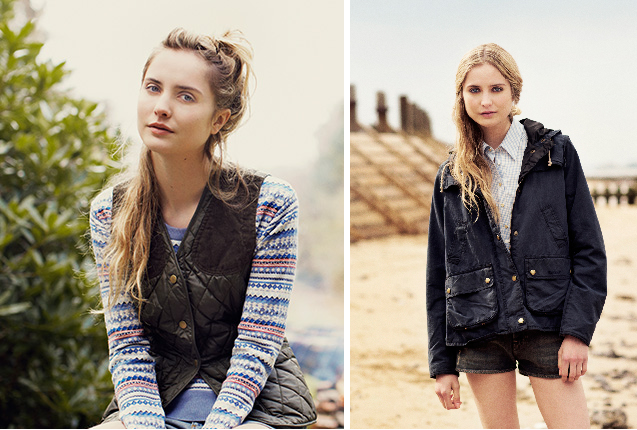 Of course, Barbour isn't just a brand for hip young mums like me (Yes, I did just call myself both hip and young. Please keep the laughter to a dull roar). Clothes horse Alexa Chung wears hers to every festival going, and uber model Kate Moss wouldn't dream of indulging in outdoor pursuits without her favourite jacket on. Barbour is the chosen brand of city girls heading to the country for the weekend and the best thing is, a Barbour jacket will never go out of style and if you invest in a waxed one it will last forever. Tempted to give one a try? Here are a few of the best:
Brompton Jacket, £205.
Union Jack Utility Wax Jacket, £250
Spring Matlock Quilted Jacket, £170
All of the jackets in the selection above are available from
Barbour at Harrods
: one of Britain's favourite heritage brands stocked in Britain's favourite heritage department store!The waxed one in the middle actually has a pretty incredible Union Jack print lining: as I'm watching England lose the football whilst I type this, it's making me feel all patriotic.That is definitely my top pick, and the long lasting waxed jackets are also my style preference.
Barbour are actually celebrating their 120th Birthday this year, truly cementing their heritage brand status. The funny thing is, I imagined they were an even older brand than that. My dad had a green Barbour jacket when I was a kid and in my head, it's simply something people (and dads!) have worn for generations: especially because, growing up in the countryside, almost everyone had one. Barbour was founded in the port of South Shields by John Barbour, a Scotsman who saw a need for waterproof, reliable, hardwearing outerwear amongst working communities of the North East. They've certainly widened their target market away from simply workwear today, haven't they?!
Do you have a Barbour jacket? How much wear do you get out of yours? Share your waxed jacket stories with the world!
Love Tor x
*This post is part of a collaboration project