Hi guys,
Now that the torrent of rain and flood water has subsided (fingers crossed) we can once again resume normal service and start daydreaming about our wonderful summer wardrobe to come. Of course because of all of the tropical holidays I have booked (none!) and the long summer days I spend lounging around our local swimming pool (none) that means I got to thinking about finding the perfect swimwear.

It's a mission I set myself every summer, and every summer I fail. I think you either have the perfect bikini body, in which case a hanky tied together with two bits of string will look amazing on you. Or you don't, in which case everything you try on will make you feel like a sack of potatoes. So this summer I have given up the search for perfection (no swimsuit will make me look like a supermodel, no matter how much it costs!) and instead started the search for pretty happy patterned fun! With that in mind, here's my pick of the best swimwear available on the highstreet: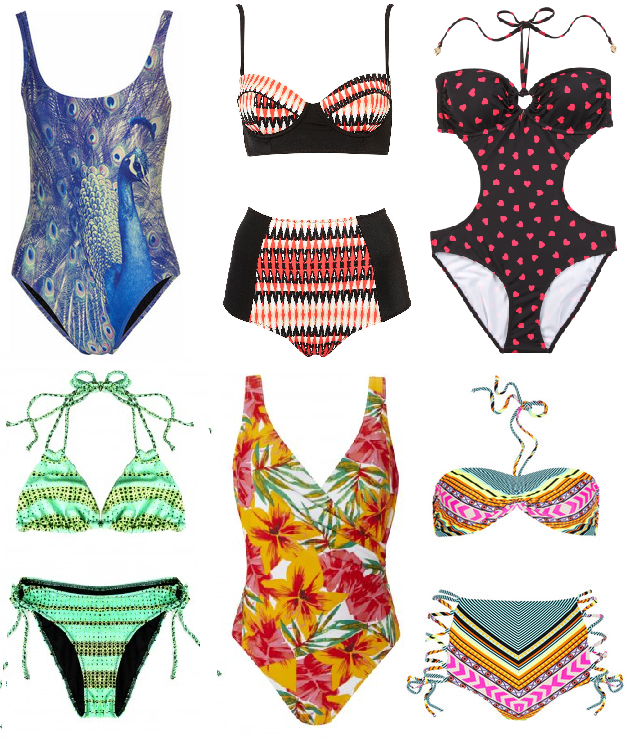 Peacock swimsuit, We Are Handsome, £180
Red and black high waist bikini, Topshop, £32
Red heart swimsuit, Clothing at Tesco, £14
Neon green bikini, Kurt Gieger, £40
Tropical lily swimsuit, Matalan, £15
Mara Hoffman lace up bikini, Net a porter, £210

Have you found the perfect swimsuit? Or do you (like me) just have something fitted and functional for hitting the pool in? I love to swim, so mine is supportive and functional, rather than pretty. But I would love to lounge around a tropical pool like a glamour puss one day....

Love Tor xx

PS- There is less than a week left to enter my amazing fashionpony competition: you could win a whole new outfit! What are you waiting for? Head over and enter now!