Hi guys,
Another day, another rainstorm, so sadly I was driven indoors for photos today. Now you guys all know how I feel about jeans (the blogs called Fabfrocks, for godssake!) but since I found these relax-fit skinnys in Topshop I wear them constantly. So I knew they would be the perfect fit teamed with this super soft coral cardigan from the Weight Watchers wardrobe: frankly, anything with a gold button, and I'm sold!
I teamed them with the green wedges, also from the Weight Watchers wardrobe (and chosen for their leg slimming potential) and a cute flower and butterfly headband from Topshop because, dammit, I like things to match, and it was the only thing in my wardrobe that had both coral and green in it. Overall I think its a pretty good casual, rainy day outfit: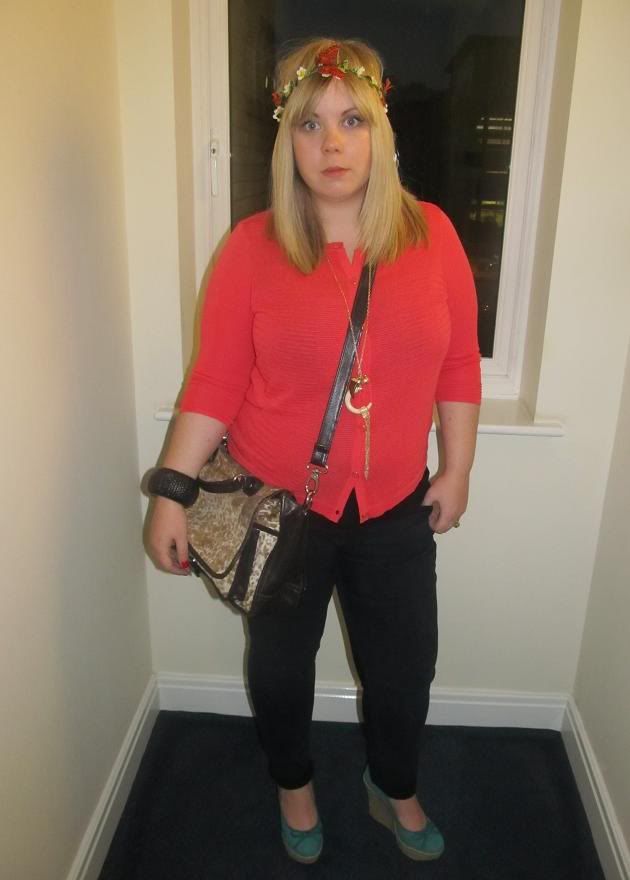 Today I'm wearing:
Coral cardigan, Debenhams (from the WW weight loss wardrobe)
Green wedges , Faith @ Debenhams (from the WW weight loss wardrobe)
Long line necklace, Debenhams (from the WW weight loss wardrobe)
Relaxed skinny jeans, Topshop
Head band, Topshop
Satchel, Betty Jackson Black @ Debenhams
You can view more detail pictures of the outfit over on the
Play Weight Watchers website
, including close ups of the outfit, jewellery, and shoes. And because this is all about Weight watchers, and feeling good while you're losing weight, here's a little fun fact you might find interesting: "
While only 8% of women who are size ten said they had been made to feel overweight or insecure about their body shape by a server in a clothes shop, that figure quadrupled for women who are a size 20.
" Gulp. I can't be the only one that reads things like this, and things that things
really
need to change!
To find out more about the Weight Watcher Weight Loss wardrobe and why I'm taking part
click here.
Love Tor xx