Last weeks etsy obsession of the week
focused on the cutesy, so this week I wanted to focus on something considerably more serious and step away from my adorable animal friends, however when I saw this
bird patterned shift dress by Emily Ryan
I fell in love and I knew I had to feature it!
This dress is made of cotton, and is cut in a 60's shift style. On the front panel there are three stuffed applique birds flying from the bottom to the top. The neck, shoulders, arm holes, and hemline are also stuffed to add structure to the dress. I know it's a little wintery but I just adore this dress: it's exactly to my taste and the wide sleeves and mini length would flatter my figure perfectly too.

Emily Ryan is an independent designer located in Portland, Oregon. She has been designing custom and retail pieces since 2001, and hs participated in many fashion shows over the years. Currently, She loves modern sculptural designs that explore texture and shape, as well as artistic, comfortable, and cozy designs and is continually inspired by 1920's couture, science fiction, and Japanese fashions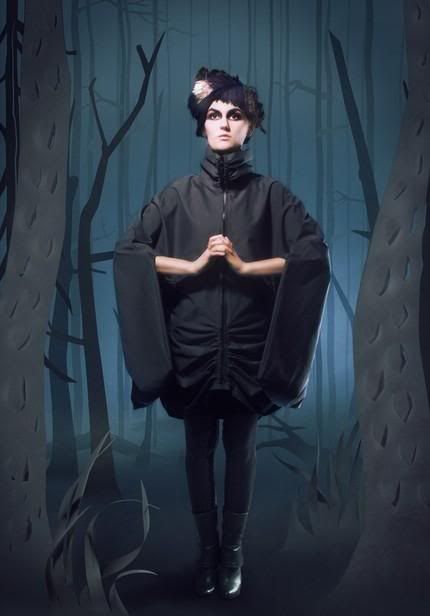 All the pieces are handmade to order, meaning you would be getting your hands on something really rather special: this dress is from the 2010 Winter Solstice Collection and I am completely in love with every single piece. I can't emphasis enough how wonderful I think this collection is, I covet it all. The piece above is called the butterfly coat: It's made of heavy weight cotton, which lends itself to structure and form. It is gathered at the sides, nicely showing the waistline and giving a lovely butterfly wing effect. It is gathered across the back, the bottom center front, and also has an oversized gathered neck. I think it's beautiful: I got so fed up of my coat this winter, but I know if I had one like this i'd never be bored!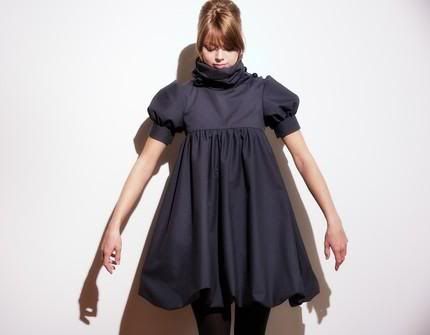 I often find myself raving about my new discoveries (I guess I must be over-excitable) but I think Emily Ryan is a very talented designer. If I could have it made without the polo neck - not good on my bust- then that dress would be making its way to my wardrobe right now!

Lots of love, Tor xx