I know it's the title of the feature, but it's true to say I really am obsessed with Etsy. The obsession started with jewellery, ranged into fashion, and now i'm turning to Etsy for my homewares too: so although this is a fashion blog this weeks Etsy obsession is a seller who actually specialises in making candles:
CandleLynn
. I figure that if you guys are anything like me your desire for pleasing aethetics branches into your home too!
My kitchen is cupcake themed (see visual evidence below) so imagine how excited I was when I found scented candles shaped like cupcakes and other food stuffs, perfect for my kitchen. Because my kitchen/living room is open plan I like to have scented candles in the kitchen after i've cooked, to take away the cooking smells (I think i'll call that a Tor's top tip!)
They are also a bargain: less than $8 US for your choice of three cupcakes: i'd go for a selection of pink and yellow ones and display them on a floral cake stand!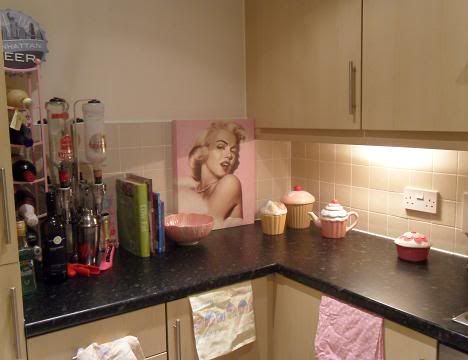 I left my job last Friday and am taking just over a week off before I start my new role. As well as a whole host of wonderfully fun fashiony things, I also intend to have a proper Spring clean of the whole flat, including of course the kitchen. I will be buying myself these candles as a reward when the job in complete: they're hand poured, and handmade when you order them. They are highly scented with high quality, fragrance oils and you choose your own colours and fragrances. This seems like a highly decadent cleaning reward without spending too much money!
Whilst we're on the topic of domestication and my kitchen, I realised I was getting old this weekend, when I asked for a new dinner service for my birthday, instead of the usual clothes/shoes.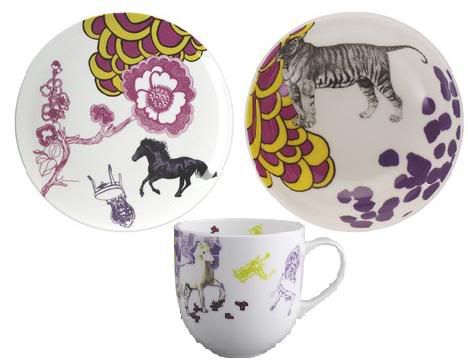 I saw it about a month ago and fell in love. Three more trips to see it, and I knew it had to be mine. I think the blurb on the site will describe it better than I can: "Patterned bone china dinnerware and serveware designed by Concetta Gallo for Habitat. This distinctively beautiful yet odd aesthetic is all about contrast and juxtaposition. Photographs are mixed with original drawings, smooth graphic lines with grainy textures, flowing liquid colour with block line and intricate detail, and precious gold finish with a floating, surreal sense of scale." So beautiful and unusual: although possibly too pretty to let anyone eat from them!
Love, Tor xx