On Saturday (before the worst of my icky illness really kicked in) I went to see the wonderful
Alice in Wonderland
at the cinema. (By the way, this cost me £12.95, which I resented-when did going to the cinema start costing as much as cheap theatre seats?!) I haven't been feeling well enough to engage my brain into writing a proper review, so this comes a little late, but if you're still caught up in Alice-fever, here it is:
I love Tim Burton's distinctive film style, and this didn't disappoint. The film is a sequel to the original Disney
Alice in Wonderland
cartoon which I thought was an inspired decision, as although you know the basis plot (which is drawn on alot) it also gives enough room to leave you guessing.
As far as i'm concerned Johnny Depp can do no wrong and although the inevitable comparisons have been made between his performance here and his performance as Captain Jack I thought the two were worlds apart: here he is vulnerable, lost, and wild. Helena Bonham Carter was the perfect choice for the red queen; she pouted like a petulant child and was terrifying in the same way it is always terrifying when someone ignorant and with no self-control is given power. Ann Hathaway as the White Queen was difficult to relate to, but I wondered if Burton had made this deliberately so; how can anyone relate to someone who professes to be perfect?
This film is a treat for the eyes, and seeing it in 3D only enhanced the spectacle: the costumes, the scenery, the wonderland. There was so much to take in it was overwhelming. I'm not giving any of the plot away because i'm sure lots of you will still want to see the film, but I found it magically nonsensical, and definitely worth the watch. I also found myself reciting
the Jabberwock
all the way home, and wishing I was Alice.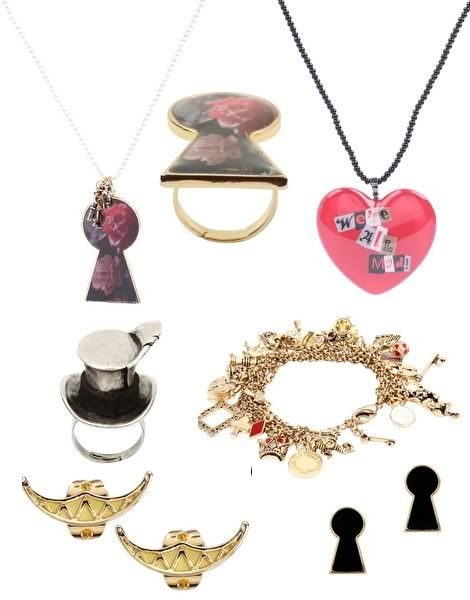 I'm a big fan of dressing up to go to the movies, and if you want to channel a little wonderland into your look, what better place to start then the
Tom Binns for Disney Couture
jewellery. This has been everywhere over the past month, so I finally decided to succumb and check it out. I was impressed: pretty, intricate designs. I especially love the keyhole ring, although I do think £40 is overpriced for a base metal ring with an adjustable band. Still, if you're prepared to accept that you're paying for the design and the name rather than for quality of materials, I think this is a lovely collection. Prices are between £14-145. (The more expensive pieces are gold plated) I also like how wearable this collection is; it's subtle enough that even after Alice fever has disapeared the pieces could still integrate and become wardrobe staples.
Will you be channelling Alice in your wardrobe this Spring? Or do you hate it when these gimmicky trends kick off and avoid them like the plague?
Love, Tor xx