Hi Guys,
So last week I was lucky enough to go to a couple of great events that really bolstered my wardrobe. The
ASOS access all areas event
was a great night out and a chance to view their spring collections. I was also lucky enough to be given a gift card to spend on those collections too!
The Skinny Cow Swap Shop
was a super fun swishing event where I traded some of my (still very lovely!) old clothes I no longer wear for yummy things I can't wait to put on. Here's what I got from each event:
ASOS Access All Areas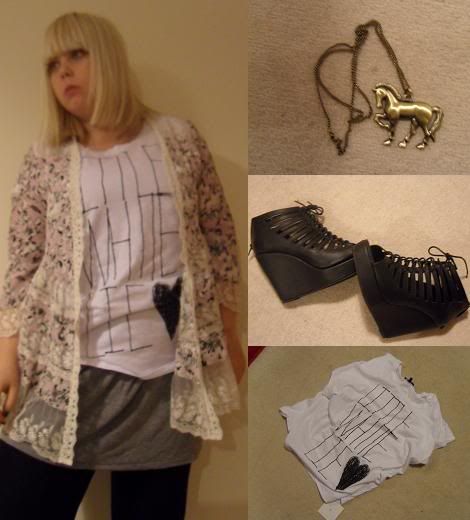 Wedges- £45, Bed jacket - £35, Little White Lie tee - £16, Pony necklace - £6.
I mentioned in an earlier post that I had been looking for the perfect summer wedges, and these are them! They look great, chunky but not at all masculine, and they were comfy from the first time I put them on (I'm on my third wear with no problems!) The bed jacket is my take on the underwear as outerwear trend: i'm too heavy busted to put a bra over a tshirt! I love this and think it will be the perfect light coverup over vests and tees on balmy summer nights.
Skinny Cow Swap Shop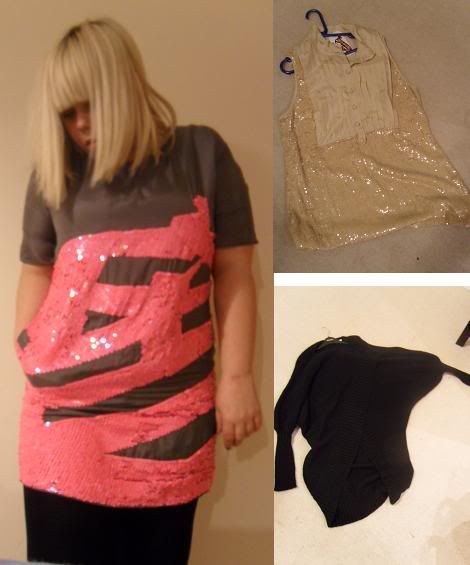 The sequinned dress is from Sophie Hulme, the lovely big cardigan is from Selected Femme,and the sequinned top is from Reiss.
I'm like a magpie, and I went straight for the sparkles! It's very unusual for me not to have gotten more black but my desire for sequins seemed to overwhelm my need for darkness. I love the Sophie Hulme dress: it was the first thing I saw when I entered the swap and I was so lucky to pick it up - I beelined straight to it! It looks a bit funnyand pulled in the picture because I have my hand in my pocket, but it's really love in "real life"! The cardigan is also a hidden gem: it looks wonderful on and will be a perfect between-season throw-on. It's so soft!
Whilst i'm talking about my great finds I want to say that I do know how lucky I am to be invited to these events, and don't want you guys to ever think I take it for granted. I hate it when you read other bloggers complaining about being sent press releases or free samples: yes, sometimes the products aren't to your taste but in that instance i'd rather write nothing at all. I'm very aware that I am an outsider to the fashion industry and am very lucky that certain companies want to reach out to you guys through me. Having said that I want you to know I only write about thing I think you'll be interested in, and all my reviews are honest: I always cover the good and the bad bits!
The good bits of course include lovely free and/or traded clothes! It's been my best shopping weekend for a long time and it didn't cost me a penny!
Love, Tor xx