I was feeling feminine and wanted to inject a little spring colour into my outfit this morning: Although naturally my base colour is black (predictable much?!) It feels a little cowboy-like though: the ditzy floral, the ruffle of the skirt and the boots all add a country and western feel!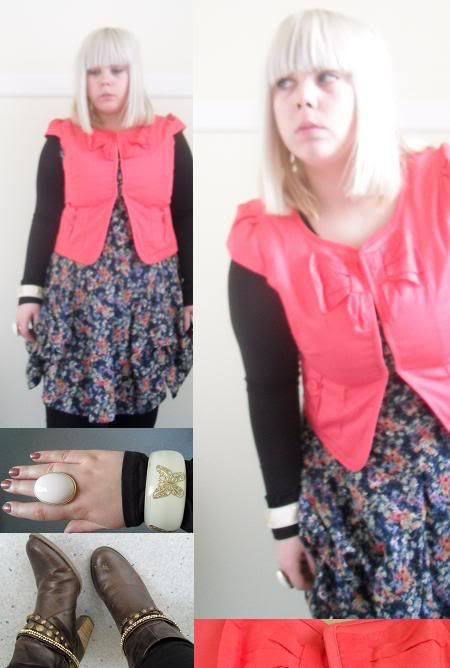 I just realised that this outfit was an absolute bargain: the whole thing only cost £25.50p!!
This is the first time i've worn this little cropped jacket: I got it in the primark sale at the end of last summer for £5, and it has sat in my wardrobe ever since. It's cute though, and I think it will get a lot of wear in upcoming months. The dress was also in the sale from Dorothy Perkins for £10. The ring is from primark for just £1 and although originally I believe from Miss Selfridge, I got this bracelet from a carboot sale for just 50p: over the Easter weekend (when car boot sale season starts up again) i'm going to write a piece about carboot shopping, because it really is where I get all of my best bargains! Finally the cowboy boots are from George at Asda and were £9 in the sale: if Betsey Johnson is bringing back the cowboy boots then who are we to argue?!
I'm not wearing any make up (I left the house in a slow rush having mildly sprained my ankle last night) so I look and feel very washed out, but overall I quite like this outfit: I just don't think I would wear it with the boots again to avoid the obvious cowboy feel!
Love, Tor xx