I love twitter - I find out things on twitter I might otherwise never discover. It is also one of my main sources of news: it was via the medium of twitter that I learnt about the deaths of both Micheal Jackson and Brittney Murphy.
Today's most interesting tweet came from
TKMaxx
who said that they'd just launched a department
selling shoes on their website
. I had five minutes to burn, so I decided to check them out. I usually see TKMaxx as somewhere you go to rifle through rails and bag a bargain. So I was delighted to find you can buy from the comfort of your own home and the discounts are just as good.
There were some great Steve Madden sandals and clogs that would be perfect if you're feeling that trend for the summer (I never say never, but I can't see my feet going into clogs!) but the biggest discounts were on the Stella McCartney shoes and boots. They still aren't primark cheap, because they aren't cheap shoes to start with, but discounts of up to 72% aren't to be sniffed at!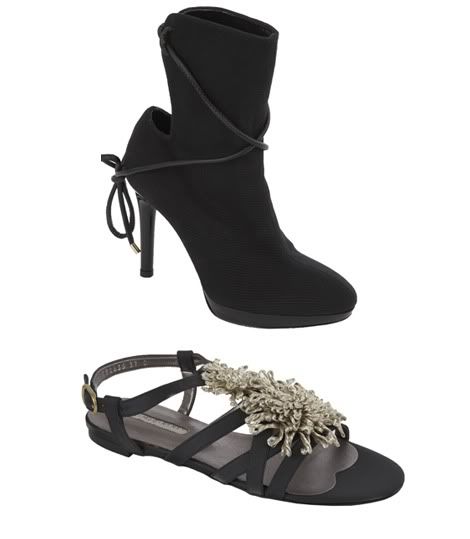 The pair of boots pictured were reduced from £760 to £199. I wouldn't mind adding those to my growing wardrobe of high quality staples! The black sandals were £550 now £149.99: both by Stella. I also loved a pair of white Diesel sandals (not pictured) which are reduced from £95 to £29.99. If only they came in black or brown!
I know i've always been very pro-primark and other cheap highstreet stores (and I think I always will love these shops for cheap trend injection) but lately i'm really seeing the merits in buying quality products that will last forever, and my mission to have a strong basic wardrobe of staples is still at the forefront of my mind. I'm currently looking for a really good quality mac (with a twist) that will last forever but still have a fashion forward edge (let me know if you have any ideas!)
T K Maxx and other stores like it (Yes, i'm still daydreaming about Bicester village) make products of a better brand and quality more accessible to girls on a tight-ish budget like me!
Love, Tor xx
PS - You may have noticed i've listed a links page to your left but haven't done anything with it yet. All the links currently on this main page (to your right) will be moving their shortly along with some new favourites that i'll add during the migration. If your blog isn't listed at the mo and you'd like me to add it to my list of links just leave me a comment/drop me an email and let me know!!