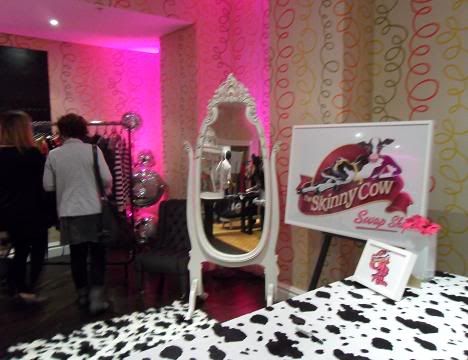 I love swishing: where else can you swap something you don't wear anymore for something you will wear, without it costing you a penny? But the Skinny Cow swap shop, which I attended today, was a cut above any other swishing event i've been to before. As well as the swaps brought by the attendees there were also donations from Kelly Brooke and the other celebrities involved in the event. I saw one lucky lady get her hands on a pair of Christian Louboutins donated by Kelly! Before the event began we had time to relax and gossip with the other attendees over a mug of Skinny Cow hot chocolate (I opted for the mint one) and the excitement in the room was palpable, then the doors were opened and it was time to shop!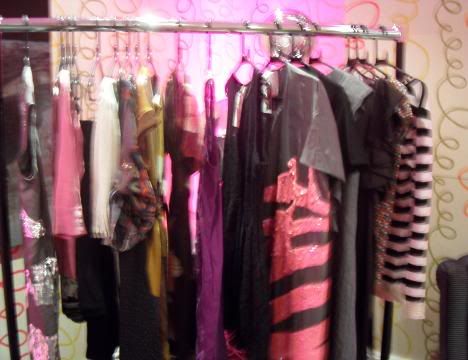 I couldn't be more pleased with the things I took home: I got a grey and fuschia Sophie Hulme dress (on the rail above), a nude sequinned Reiss top, and an unusual Selected Femme black cardigan which drapes beautifully.
Swishing is such a fun and exhilarating thing to do: You enter the swishing room not knowing what you're going to find and then you get to scour the rails looking for something fabulous. When you find something you like it's an even better feeling than bagging an amazing bargain in the sales! As an aside, I loved the way they'd themed the room and all the strokeable cow print everywhere too: such a nice touch.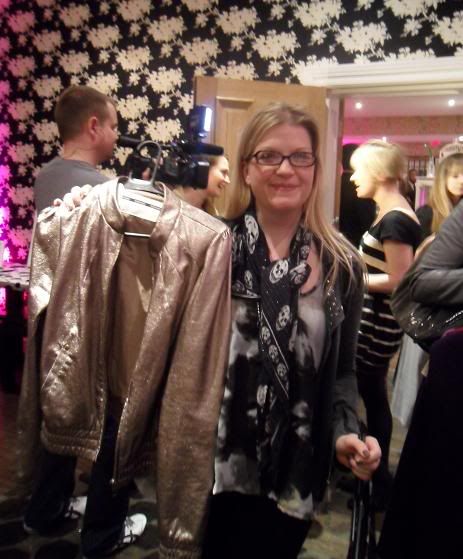 The event was really friendly (no snatching or elbowing!) and everyone was chatting to each other, trying to work out who was taking their clothes home. I was involved in more of a swap than I thought, as it turned out the gorgeous lady pictured above went home with my topshop jacket, and I left with her Reiss top: she obviously has impeccable taste in jackets and tops!
If you're ever looking for a fun way to kill an afternoon then I can heartily recommend giving swishing a go- and if you find a good event let me know, I think i'm newly addicted!
Hope you're all having a great weekend so far!
Love, Tor xx
PS - Gotta love
my sister
. Whilst I was taking pictures she jumped in to have a gossip with Kelly Brooke: another celebrity to go on my list of those who look even more beautiful in real life than they do on TV.
PPS - Apologies for the quality of the images in this post: my camera was playing up, and I had to sit down and fiddle with the settings when I got home! Once again, normal service should resume now!