Earlier in the month
I wrote about my discovery of
Emma Hadley's beautiful jewellery,
so you can imagine how delighted I was when Emma agreed to do an interview with me for you guys. I wear my tiny bumble bee necklace all the time: it's one of those pieces that goes with everything! Emma has also generously donated a beautiful piece as a competition prize for you guys (details of how to win are at the bottom of the post)
Before we talk about how to win the prize though, lets find out some more about Emma. I also thought it would be nice to see the lovely lady at work, so these are the images dotted through the post: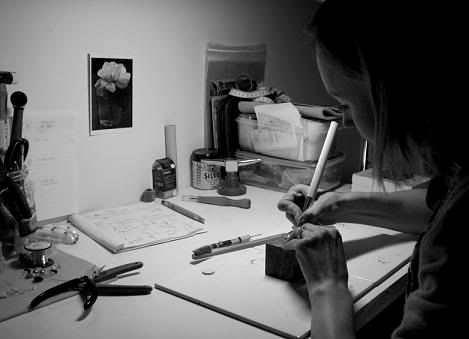 -How long have you been designing jewellery?
I started designing seriously a year ago when I learnt the technique of Precious Metal Clay to make pure silver peices, although I've always had images in my head of my ideal jewellery I would make if I could.

-What made you want to be a jewellery designer?
Now I'm doing it I don't know why I didn't start earlier it seems so natural to me! designing and making is definitely in my blood, my mother is an artist and I grew up being very creative; making clothes and crafty things. I've come from an exciting and challenging career as a Fashion Buyer but I knew one day I'd like to start my own business and create a brand of my own. The opportunity to explore this came when I was made redundant at the height of the recent recession, not wanting to sit around waiting for the high st to recover I enrolled in a jewellery course at the London Jewellery school. Designing and making jewellery suits my character, I love the delicacy and attention to detail, and I've always been like a magpie drawn to beautiful shiny things.
-If you could only wear once piece of jewellery for the rest of your life what piece would you pick?
Only one :( well it would have to be my Bee Blossom necklace, I think it has a timelessness that i'll never get bored of, and it goes with everything, dressed up and dressed down.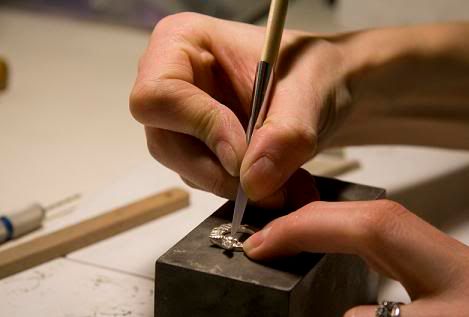 -Which other jewellery designers do you admire?
I like Jacey Withers completely original and ethereal style, and I also like NYC duo Dannijo, their style is completely different to mine but there's a full on modern glamour that looks fab.
-Where does your inspiration come from?
A big influence is from nature, I'm definitely a city girl with a country heart, I was born in Cumbria and my introduction to the Lake District at a young age has never really left me. The overriding factor in all my designs is the need to make each piece become something more than just functional jewellery, I like my designs to tell a story and to mean something personal and special to the wearer. The people close to me are a big influence in this.
And now for the fashion!
-Where do you buy your clothes?
These days I buy as little as possible (the down side to starting your own business). It means being imaginative by refreshing my old clothes with select add ons from the High St - Topshop, H&M, Zara etc. I used to have the luxury of shopping in NYC and Paris as a Buyer and some of the finds from shops like Anthropologie, Big Drop, Scoop and Barney's, whether new or vintage, have great longevity.
-Who is your favourite designer, and why?
It has to be Alber Elbaz, no one dresses women as beautifully as him!

-Finally, if someone gave you £10,000 and an hour in Selfridges to spend it, what would you buy?
This is a nice little daydream! There would definitely be some Mulberry and Chloe handbags for me and my sisters, a stop at Balmain, Temperly, Paul & Jo and Anglomania. Citizens of Humanity and Paige jeans. Maybe a Bulgari watch, and the rest my husband can spend on himself.
And now for the competition. To get your hands on a piece of Emma's handcrafted jewellery (pictured above) all you have to do is sign up to her
mailing list here
, and leave a comment on this post. The competition will close on the
7th April
when Emma will pick someone who signed up for the mailing list at random: Easy peasy (lemon squeezy!)
This prize is a gorgeous piece called the Stellar charm - A pure fine silver STELLAR tag with a Swarovski crystal AB star, on a split ring ready to be added to bracelets and necklaces. I wish I could enter myself! If you can't wait to get your hands on a piece of the Emma Hadley collection you can
buy direct from her website
.
Big thanks to Emma for her generosity and for answering all of my questions!
Love, Tor xx