I see
Bershka
as
Zara'
s younger teenage sister: all trendy and full of attitude. In my head, this is where the kids from
Skins
would pick up their jeans and tees, in between life-crises. Because i'm not really in their target demographic, its a shop I rarely go into. But today was their press day, so I decided to check it out.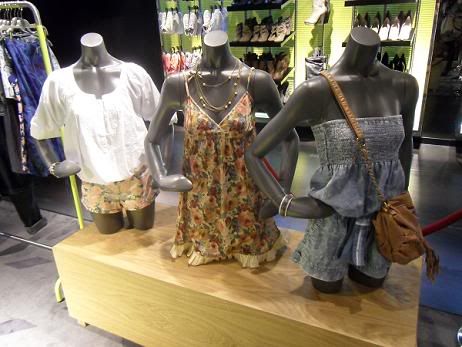 They are really trying to push the store as a place where fashion can meet music, and I think they have the balance exactly right. Entering the newly redecorated Oxford Street store feels like entering a trendy nightclub, right down to the oversized speakers on the walls. And the clothes are the kind of clothes you can imagine being worn to gigs and festivals.
I suppose because the target audience is quite young (and so not generally cash-rich) the price point is really reasonable: tops for £14.99, jeans for £19.99. I was checking out some very cute pastel belts (my nod to the trend without abandoning black perhaps) that came in at just £6.99.
The images dotted throughout this post are previews of the high summer collection: one of the brand focuses is denim, so there are lots of cute denim rompers and cropped jeans. The pastel trend is also continuing with light polka dot denim and pastel tees. And of course florals are showing no signs of dying yet. I actually really liked the cropped raspberry coloured pleather jacket for myself. I loved the look of the zip up black wedges and they felt very light, but I like my wedges to have a little bit of weight to them, so my search for summer sandals still continues. The jeans have a little too much going on for my tastes but hey, i'm not seventeen any more, so what do I know!?
I can imagine this store will only grow in popularity with teens, especially as the link between the store and music grows. The collection is very young, but also very on trend and wearable at a great price point. I can see all the pieces slipping in really nicely with an existing summer wardrobe of basics. Sadly (and it makes me feel old saying this outloud) it's just a little too young for me!
Love, Tor xx