Hey guys,
Lots of people expressed an interest in my supermarket chic post about Tesco
(Clothing at Tesco even profiled me on their site!)
so it seems only fair that we look at what some of our other British supermarkets have to offer. Last week I went to the George at Asda high summer press day: an event where I saw a series of pretty dresses that will be landing in George shortly. Here is a sneak preview of some of my favourite pieces:
I love the sharp square shoulders of the aztec dress, and suspect I will pick it up when it lands in store. When I saw the floral dress with the tiered skirt I immediately knew that it would be perfect for a summer wedding: and for less than £20 its great if you're invited to a summery event at the last minute and need to pick something up on a budget! There were some pieces I wasn't so keen on (like the military jacket above) but overall I was impressed with the designs and more importantly with the quality, which felt really good.

As I left the event I was handed a look book and a £50 voucher to spend in George. So naturally when Mike and I went to do our supermarket shopping last Sunday, I went out of my way to spend it!

We usually go to the Asda in Edgware, but they dont have a big George section, so I made Mike drive me to Wembley instead. I've never been to this one before but if you're looking for a super Asda, this is the one to go to! Its on two levels, and the whole of the upstairs is dedicated to clothes and homewears. I got: brown studded boots (In the sale for £9) Floral drop waist dress; £12, Studded sleeveless denim shirt, £12, black hankerchief hem vest £6, Polka dot top, £10, and black leggings; £5.


Head to toe in Asda: here are the boots, leggings, floral dress and denim shirt.
First I want to rave about the leggings: they're really thick and really hold their shape. I usually pay £10-£15 for my leggings from Topshop, but I think these ones for a fiver will be a really good alternative! I'm also nuts about the denim shirt with the studs on the shoulders: it's going to look great unbuttoned over pretty dresses in the summer but can also be worn now over leggings and long sleeve jumpers. When I picked up the slouchy floral dress I had my summer holiday in mind and I couldn't resist the boots for the money: practical but with a tiny heel!
I'm really happy with the stuff I got: the fit and quality is really good and very flattering. Some of the range is pretty fashion forward and it slips into my existing wardrobe really nicely: I see this as a good alternative to Primark for buying on a budget.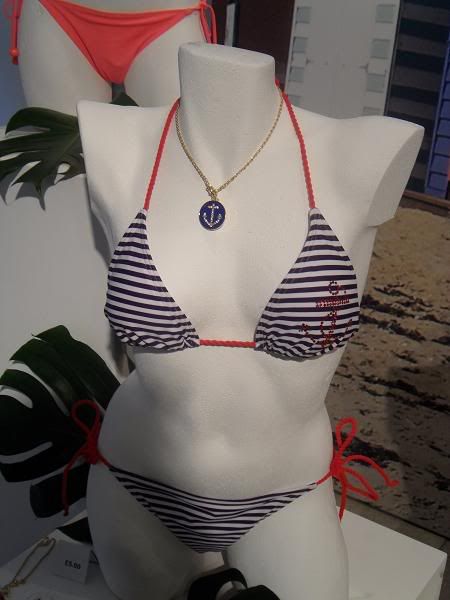 Oh, they also do bras up to a G cup and swimwear up to an F cup - I really liked some of the swimwear actually, and the prices were really reasonable: full fitted suits for £8! I will definitely be going back for my summer holiday shop.
Love, Tor xxx