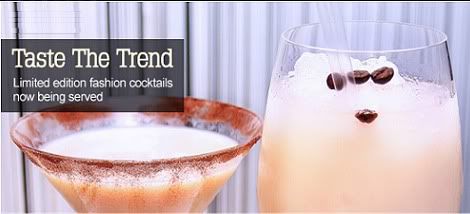 During London Fashion Week
The Style PA
and I visited
The Trafalgar hotel
and bar to view a pop up showroom called the Nolcha Fashion Lounge. The fashion was interesting (and gave me a couple of new designers to research!) but possibly more exciting, the drinks were delicious!
September at The Trafalgar is fashion month, and they have a new cocktail menu with three new cocktails inspired by fashion, and this seasons new trends:
- Nude Lace is white chocolate liqueur with tequila and a hint of coffee.
- Pretty Poetess is rum with green cardamom syrup and Angostura bitters
- The girl in the camel coat is Grand Marnier with tequila and a chocolate dusting.
I tried Nude Lace and The girl in the camel coat, and they were both creamy and delicious! What I didn't try (but it sounds yummy!) was the sharing sweet, called the Autumn Winter Assiette. This is a trio of chocolate, hazelnut, and coconut desserts inspired by the minimalist pieces on the catwalks at Aquascutum and Celine.
The cocktails are £10 each, and the sweet is £7.50: Definitely one to check out if you feel like an indulgent and decadent fashion treat!
Love, Tor xx