Hi guys,
Today I went for a sneak preview of the
Westfield London shopping centre
fashion car boot fair which opens tomorrow: a lot of the cars were still being set up, but I saw enough to be excited about how it will look when it's finished!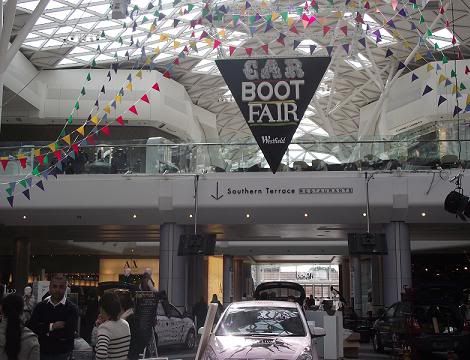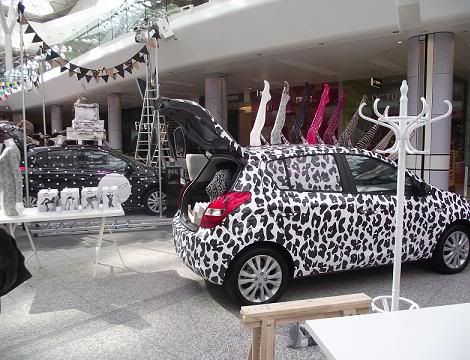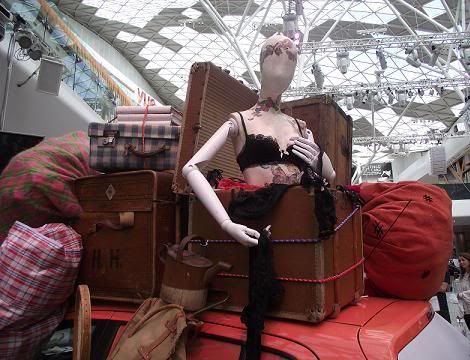 The visual merchandising of the stalls was fantastic: the Swarovski stall had a magpie theme which I loved, and the Ted Baker stall was really eclectic, and in a thrift store style. I think the Mary Portas Charitable giving car, shown in the bottom picture, will be the most popular (as long as you have a pocket full of cash of course!) because tomorrow they will have a stash of vintage Chanel handbags for sale - if I had the money, i'd be in the front of the queue! Lots of the cars will be hosting activities and give-aways you wouldn't find in store: at the Topshop car you'll have the opportunity to win everything on display, the Whistles car are hosting a whistle tombola to win prizes from the stall (if your whistle blows you win the prize!) A literal translation of the store name that I like: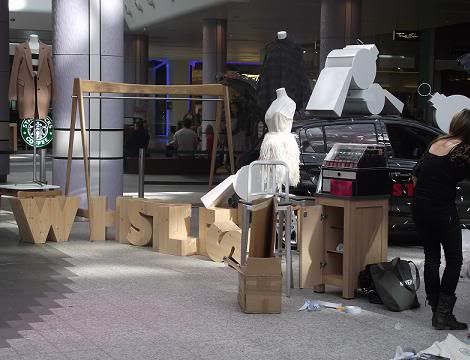 There'll be lots of other great stuff to do too: I saw a cupcake stall, and apparently a team of senior make up artists will be descending on the MAC stall. And the House of Fraser stall will have a catwalk coming from their car showcasing all the new season looks. And even better, all the things on the cars are available to buy, so it's like normal high street shopping but with extra treats and activities thrown in!
Click here
and you can see a list of all the brands participating, and all the great giveaways and competitions they're holding throughout the event. The boot fair will be running from tomorrow (21st September) until 26th September in the atrium at Westfield, giving you plenty of time to check it out! If I get the chance i'll definitely be popping down to see how it looks when it's up and running: i'd love to know what you guys think if you get the chance to go down too!

Love, Tor xxx