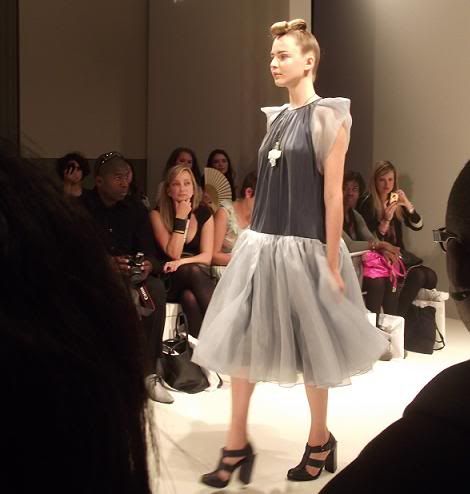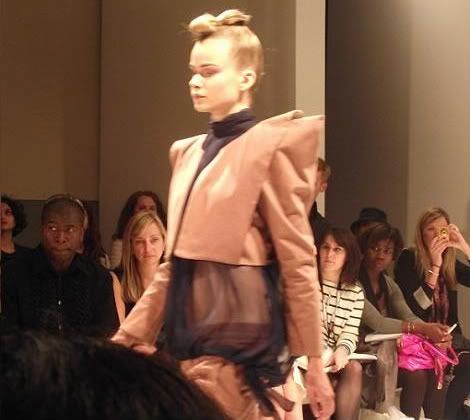 The Lako Bukia show was the first ever London Fashion Week catwalk show from the designer. The collection took its inspiration from Soviet Union Architecture and the block buildings which remain in the Soviet Union countries. I really loved all the sheer chiffon details in the collection: there were sheer panels in dresses, full sheer shirts, sheer sleeves and even short sheer
evening-style jackets
with futuristic shoulders.
The collection featured a selection of
drop waisted dresses
that I wasn't very keen on: they looked awkward and reminded me of a sad '80s prom. But I loved the colour pallette of greys and soft pinks: The colours of the collection were very pared down, apart from the occasional flashes of vibrant red. (A nod to the Soviet Union's Communist past, perhaps?!)
The collection had a massive emphasis on shoulder details, which I felt like we have seen before in previous seasons; pointed shoulders and ruffled shoulders were an addition to nearly every piece. It was a very wearable collection, and although I wouldn't be buying any pieces to add to my own wardrobe (not that I have the money for this kind of thing!) it is definitely the kind of collection I can see selling really well...and given that she was sat front row kind of smiling (it's hard to tell with all the botox!) I think Janice Dickinson agrees too!
Love, Tor xx