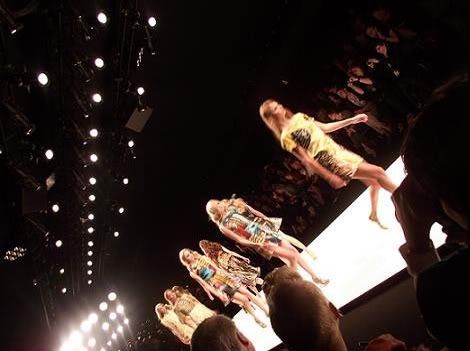 The Basso and Brooke collection was truly beautiful: definitely worth the ungodly start on a Sunday morning (I had to leave the house just before 8!) When I got to Somerset house there were lots of people armed with giant cups of coffee and sunglasses, so I don't think I was the only one not used to such an early start on a Sunday! Probably because of the early start, there was a surprisingly low turn out for the show, however Amber Rose, Susie Menkes, Hilary Alexander, and me (of course!) were all out in force; and in truth this worked out great for me, as I was supposed to be sat on the 6th row, and ended out sat on the 2nd, where I could take some great photos!
As always, I loved the prints (the snakeskin print of the invitation was included in the collection, which I thought was fab!) and the floaty
ice skater-style skirts
were stunning: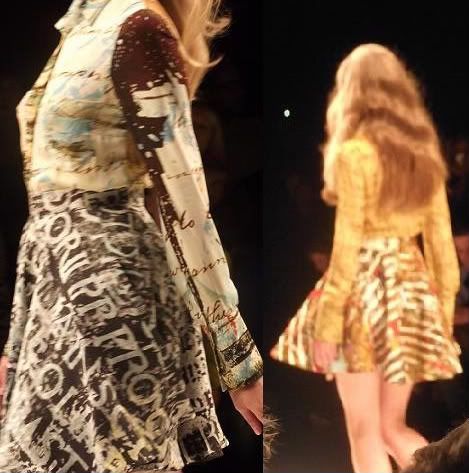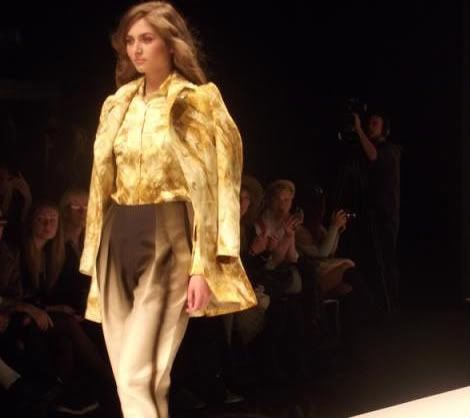 The collection was one of extremes: old and new meeting. Some of the text based patterns were taken from handwritten notes by Da Vinci, Tolstoy, Balzac, Saint-Exupery and others. Visually they were stunning: a new take on the ubiquitous digital print
. I loved the use of the prints too: some of the most stand out dresses had the prints used in panels for really great effect.
There was a really prim and proper feel to the clothes, despite the short modern hemlines. Necklines were high, with shirts buttoned all the way up, and
coats
were draped casually over shoulders so they flowed prettily behind the models.
I was a big fan of the hair and make up: it was simple, understated and pretty; what I call rich-girl hair, because it looks so easy and casual, but really you need a hairdresser on standby to look that good! I really loved this collection: it was beautiful, wearable, and truly aspirational.