The Topshop mid-season sale started yesterday, andI got straight in there to see what I could find! I actually got really lucky because alot of the stuff had been wrongly priced on the tills (according to the guy serving me this happens on the first day of every sale) and so I got a top for £5 (today it's £25) a top for £10 (today it's £20) and a pair of black leggings for £7. Leggings never normally go in the sale and I wear them every single day so I was chuffed with my bargain there!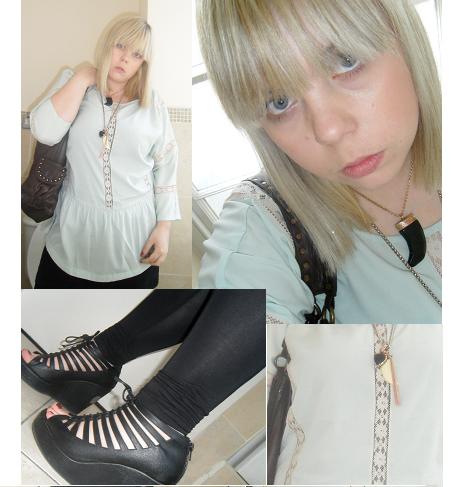 Here is a quick outfit shot of the top I got for £5. I'm wearing it simply with the black leggings and a long line black vest teamed with my ASOS wedges. With hingsight the top makes me look broader than I am, and really needs a belt!
There are still loads of bargains to be had from the Topshop sale: if it wasn't the week before payday I would be going crazy! Here are my picks of the top five bargains from the sale that are currently available on the website: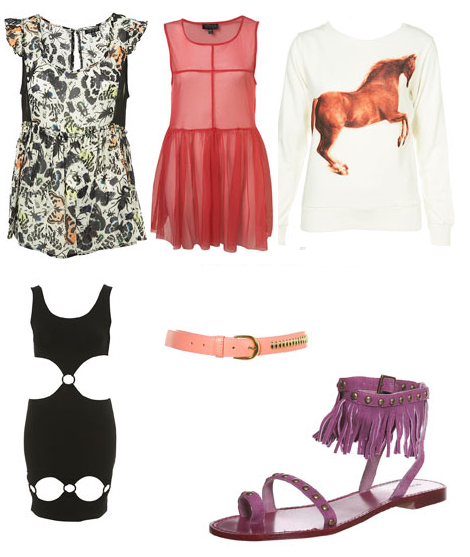 Moths and bugs print blouse, was £35 now £15 (I loved this and tried it on but it cut too high on my bust)
Mesh tunic, was £28 now £12. (This has massive layering potential and is something you could do so much with whatever the season)
Horse sweater, was £28 now £12 (They didn't have this in my size or I would've snapped it straight up!)
Danielle Scutt dress, was £50 now £25
Shoes, were £22 now £3. Yup you read that right, now £3: and they're 100% leather. How much of a bargain is that???
Belt was £25 now £12. If nude tones don't really suit you this would be the perfect way to jump on the massive nude trend without having to go overboard. Plus it's really cute!
I know I normally do my sales reviews from the shop but it was madness yesterday and I didn't even queue for a changing room - just threw the tops on over my dresses on the shop floor! Now all the summer sales are starting to get into full swing I will do some more proper reviews over the coming weeks: it's a good excuse to hit the shops!
Love, Tor xx
PS -Tadaa! Above is the inadvertant unveiling of my new hair colour - i've had lowlights put in to take away some of the harshness of the blonde. I'm not sure how I feel about it yet, but I do think it suits my complexion more. It is weird to be darker whilst everyone else is going lighter for summer though!