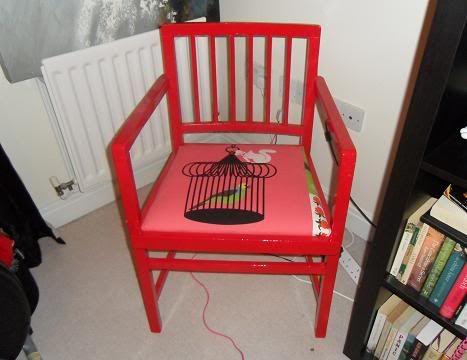 Yes, you're right: this is a picture of a chair.
I don't often feature home stuff on the blog, but I painted and reupholstered this chair myself and i'm so proud of how it's turned out that I have to share!
I brought the fabric for the seat about 6 months ago and have spent all that time looking for the perfect chair to cover. I found it at the weekend and I couldn't have been more excited: according to its markings it is from 1969 but it has the modern shape that is the bf's preference and was a bargain at £20 (my lovely nan paid: a wonderful gift) When we bought it it was white and had a black leather pad. With the help of my dad (this is code for 'he did most of the work') it was painted with a pillarbox red gloss paint. It needed a second coat, which I applied last night. Then my mum showed me how reupholster the cushion, which I did once I got the chair back to London: it was a real family effort!
I still have loads of fabric left (acres in fact!) to make some cushions which will make the chair more comfortable to sit back in, and tie the colour scheme and patterns all together too. I originally wanted to paint the chair turquoise but it didn't match the room, and now i'm really happy with how the red turned out. I enjoyed doing it so much that i'm now on the look out for another chair to do something very similar to for our bedroom!
If you add up the cost of the original chair, paint, and fabric, making this cost around £40. But I think that's incredibly cheap for a piece of furniture, especially when you consider that noone in the whole world can have a chair quite like this!
Love, Tor xx