Inspired by
Gem Fatale
's post on how to paint your own leopard print nails, and missing my vibrant WAH creations (but lacking the scratch to have them done properly) I decided to give it a go myself. Rather than going for Gems vibrant blue and red versions though, I went for a more "natural" print using nude, hot pink, and brown. Here are the results: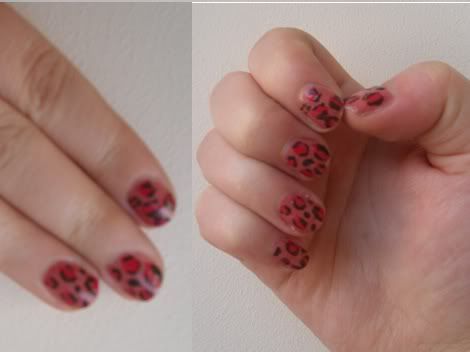 Given that i'm naturally cackhanded, I don't think I did too bad a job, however you can see wobbles and they obviously don't look as good as they did when I had them done professionally. These ones were free though: there's pros and cons to everything! You can use any three colours to create your own leopard print, although obviously the base colour has to be lighter than the two you put on top.
I used: Bourjois so laque in beige glamour for the base, No 7 long wear nail varnish in hot pink for the spots and Barry M in chocolate for the very top detail.
If you'd like to have a go at releasing your inner animal then you can follow Gem's
tutorial here
. Hopefully you'll have steadier hands than me! And if you'd rather trust the professionals then WAH have opened a concession in Topshop Oxford Circus, meaning having your nails done won't need to interfere with your shopping!
Love, Tor xx