Would you say that spending four hours shopping in TKMaxx was a productive or an unproductive way of spending a Saturday afternoon? I'm hoping the answer is productive, because that's how I spent the integral hours of my weekend!
As a thank you for taking part in their dress challenge, TKMaxx sent me a lovely note and gift card, and so obviously I went out to spend it: guilt-free shopping is my favourite kind! However what started as a browse with intent turned into a major shopping spree! I ended up buying: 3 dresses, a Moschino t shirt (which i'm totally in love with!)two cardigans, a Moschino cheap and chic silk scarf, a pair of crazy clog shoes, six pairs of Betsey Johnson socks (for my holiday), Betsey Johnson sunglasses, Mickey Mouse pajamas, underwear, House of Holland tights, some T shirts and socks for the boyfriend, a present for my dad (it's his birthday next month) and a very cute leather purse. And here are pictures of some of the pieces to proove it: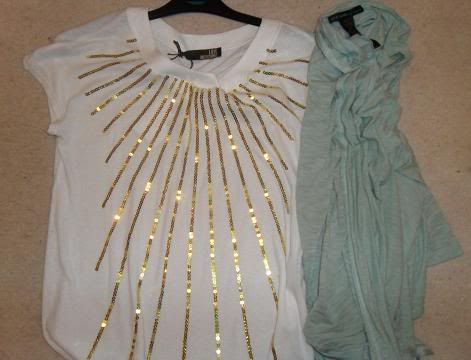 The Tshirt looks really simple but its so soft and it fits like a dream: I think i'm going to slouch it over a nude skirt. I also love the shoes: these will be my nod to both clogs and double denim (teamed with either jeans or my denim jacket) this summer. I was also really pleased about buying the two cardigans; cardigans were on my list of things I definitely needed, and now I have plenty!
I'm aware that this is a bit of a vapid self obsessed post, but I had such fun on my shopping spree that I just had to share! I haven't photographed the dresses because they look better on than laid out flat, but I will point them out in future daily wear posts!
Love, Tor xx