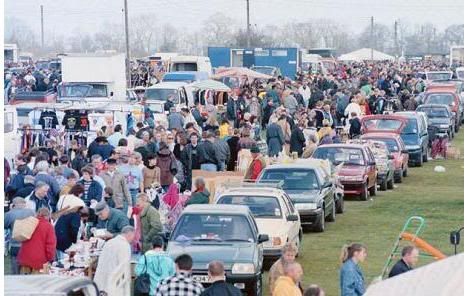 I love carboot sales and I always manage to bag a bargain when i'm out at them: I have been known to spend a pleasant summer weekend with my mum and my sisters hopping from one to the other. This weekend is the weekend most bootsales officially start up, and I have three lined up to attend, so what better time to write the Fabfrocks guide to carboot sales!
1. Do your research. It only takes a couple of minutes to find out where the sale is and what time the sale opens to sellers. There are different thoughts about what time you should arrive: I always like to be at the sale quite soon after it opens to get the pick of the stock, but other carbooters prefer to arrive towards the end of the sale when sellers might negotiate a little more on the price.
2. Decide what you want to pay before you ask how much something is. Very few stalls will have prices on things, so I always like to know how much I think something is worth (
to me
) before I ask, and I never go over the number I had in my mind. Also, don't be frightened to negotiate: if you had a lower price in mind then it doesn't hurt to ask! The worst someone can do is say no, and even if they don't like your suggestion, they're often prepared to meet you in the middle.
3. Carry loads of change! I know it seems really obvious, but it's easier to get a £1 book for 50p if you have the 50 pence piece in your hand, rather than a £10 note. Its also a good idea to carry one of the many cotton bags we all have shoved in a drawer: not all sellers are organised enough to bring carrier bags, and it will make it alot easier to carry your purchases home!
4. Be open minded. Its a famous old phrase that one mans junk is another mans treasure: I often go to bootsales looking for books (I read alot) or brooches for my collection, but find dresses, tea sets, even an old monopoly board! There is an awful lot of junk at your average boot sale, but I try to see the potential in everything!
So, what are you waiting for? Why not go out and bag yourself a bargain at a bootsale this weekend! You never know what you might find!
Love, Tor xx