Earlier in the week tesco clothing started following me on twitter (and you can too:
www.twitter.com/fabfrocks
) Out of courtesy really, I followed them back. Two days after that they tweeted about an interesting sounding floral dress. I followed the link, and this post was born!
When my dad was a kid his mum (my grandma) used to make him wear what he refers to as "
Tesco bombers
". These were
Tesco
jeans that cost 70p, only came in one leg length, and were the bane of his life because he really wanted Levis. This is my
Tesco
in a fashion context!
.
Nowadays, bizarrely (and I didn't know this until I saw the link at the top of their site) Tesco is one of the sponsors of London Fashion Week. And the
Tesco Clothing
site is suprisingly comprehensive! I have been known to browse the G21 range in
Asda
, but never really thought of
Tesco
as a place to pick up clothing. And this site doesn't just stock a dress or two. I am talking tons of clothing, at very low prices!
.

Here is a selection of my favourite pieces: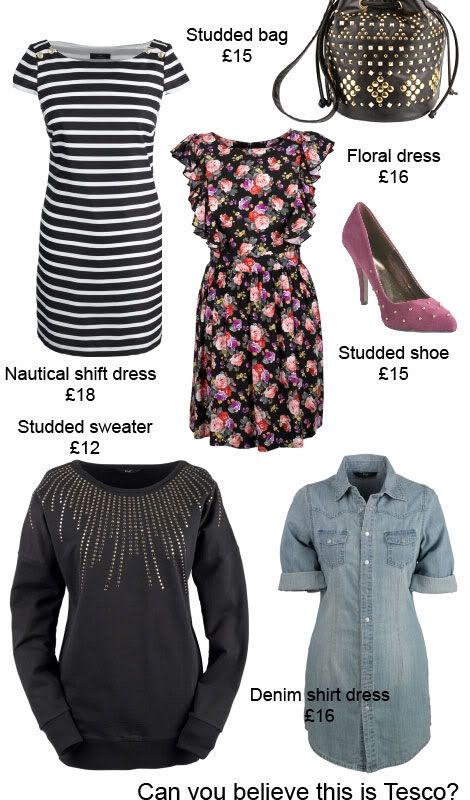 The site is really easy to navigate and set up in such a way that you can find what you're looking for in seconds. I'm going to geek out for a second when I say that so many online stores are so concerned with making things look pretty that they don't think about user experience when building their sites, and this is a massive mistake. The pretty is important of course, but it's hard to care about it too much when the site is slow and you can't find what you want!
.

Now I can't vouch for the wear or the quality; I didn't even know this store existed in a fashion context, so I haven't tried any of it! But I can say that I like the look of a lot of the fashions available: very trend-led and wearable. Pre-shopping ban, the floral dress and the nautical shift dress would be in my wardrobe already!
.

Is this all new to you or am I late to the table (again!)? Have people been wearing
Tesco
for ages and I just didn't know? If you've every tried clothes from
Tesco
(or even fondled them in the flesh!) i'd love to know what you think!
Love, Tor xxx