When I was a kid my mum always said to me "you look with your eyes not your hands." I never thought it was true. Now i'm a grown up I still need to hold things in my hands as well as look at them "with my eyes". Which is why I was so excited to be able to touch and stroke the Bally/Central Saint Martins shoe collaboration as well as admire it.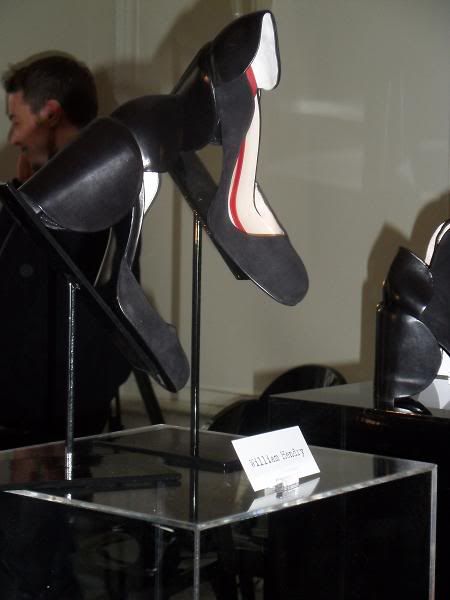 The shoe above looks like it would be really heavy, but it is actually quite light: the curved heel is cleverly hollow. I initially thought my favourite shoe was the pointed toe one below, but with a few hours to ruminate, it was actually this one I kept thinking about. If only it came in the nude colour! I was quietly impressed with the collection. Five MA students from Central Saint Martins (four first years and one second year) were briefed to create designs that have high editorial value and a strong luxury feel. The chosen students work particuarly focused on the heel: creating innovative shapes and using different styles to accentuate different parts of the foot. It was a shame we couldn't see the designs on a foot to see how this played out in practice.
My mum said of Bally "they're the kind of shoes anyone can wear from you to your nan" and I think this is as true of this collection as of any other. They are shoes that have a touch of the extraordinary whilst still remaining fantastically wearable; the heels aren't too high nor the toes too warped.
So many different textures and materials were used in the collection ranging from the perspex shown above to suede, patent and the softest leather, which Bally is known for. You can't go out and buy this collection yet, but Bally do plan to incorporate some or part of the students designs into future collections: what a great way to start your career! And apparently the collaboration doesn't stop here as Bally and Central Saint Martins will continue working together for the foreseeable future. I think its a really great idea, especially for the students involved.
Love, Tor xx