Flash!!! Aaa-aahh!! Saviour of the universe!
Yes, it was to the roar of Flash Gordon that the Ashley Isham show began. And what a show! It seems lame' is making a come back and regal purple will (yet again) be the 'in' evening wear colour for next winter. Gowns were mostly floor length and the trend for sharp shoulders and shoulder detailing doesn't seem to be going anywhere. The incredible jewels and jewelled shoulder pieces were provided by Erickson Beamon. They were breathtakingly beautiful and really complimented the dresses, although I think they would compliment any dress!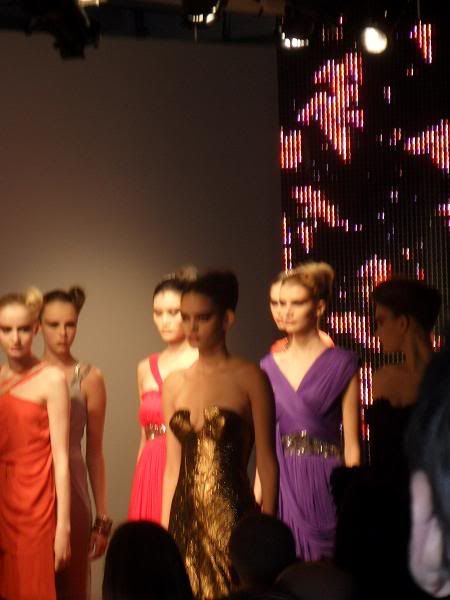 Apologies for the poor picture quality; I didn't have the best picture-taking spot, and the official images aren't available yet. I always enjoy Isham's shows though, and the glamorous take on form fitting evening wear.
Whether with one shoulder detailing, layered straps or curved bodices, I think arms and shoulders will be the feature in evening wear next season, as apposed to the leg fixation we have experienced for the past twelve months.
The collection encompassed so many things; it was glitzy, space age, and warrior-like. The models looked strong and empowered and this was represented by their strong and determined walks. Most of the dresses came in plain block colours but I absolutely adored the two printed dresses: the graphic pastel print is beautiful and the fabric moved incredibly. In fact all the dresses moved beautifully with layer upon layer of gorgeous silk.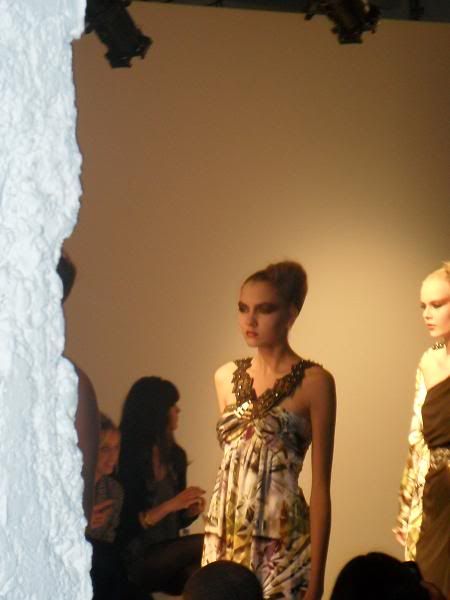 This collection was one of my favourites of the day so far, although of course, I never have anywhere to go where I would wear such fancy dresses! Still, a girl can dream, and if Prince Charming invites Cinderella to the ball I can promise you she will be going in an Ashley Isham dress!
Love, Tor xx