I really enjoyed the Bryce Aime show. To the lilting sway of Eygptian beats, the models strutted down the catwalk. There was a very Eygptian theme to the show and it pleases me to say that black seems to be the new black. Like Ashley Isham, Bryce Aime also made use of lame'-type fabric. I am definitely sensing a revivial of this for next Autumn/Winter!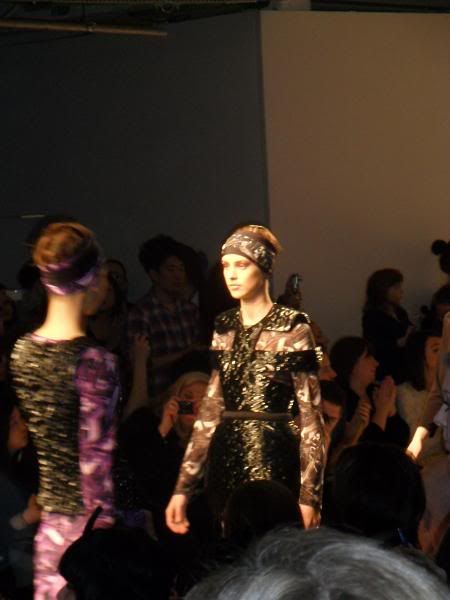 The hair was very simple with models wearing thick purple or black hairbands and the colour pallet was very muted; black, purple (again!) and burgundy red. The emphasis seemed to be on the shape and structure of the dresses rather than the length, colour, or pattern and the dresses were very geometric and angular.
The dress that drew gasps from the crowd was this "boxy" number: taking geometry to the limit, i'm afraid my picture of it is awful but it doesn't make it any less impressive: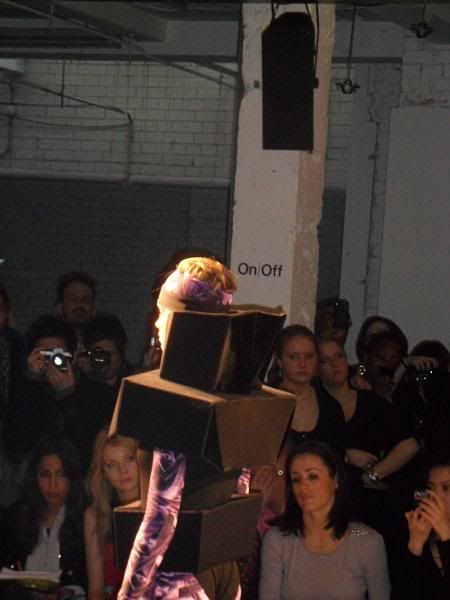 One for Lady Gaga, methinks?? I love it when something unexpected comes out, and it really lifts the atmosphere in the room too: everyone starts snapping away, probably to share with their friends and collegues.
The majority of the dresses were actually very wearable (I suppose that's the point!) and the great thing about this collection was that I could see it being accessible to so many people; from young fashion crazy kids to more demure women. There was a lot of small ball-stud detailing, especially on the collars. However this seemed more luxe than grunge or rock-chic, as the balls were tiny sophistiated drops in shiny gold.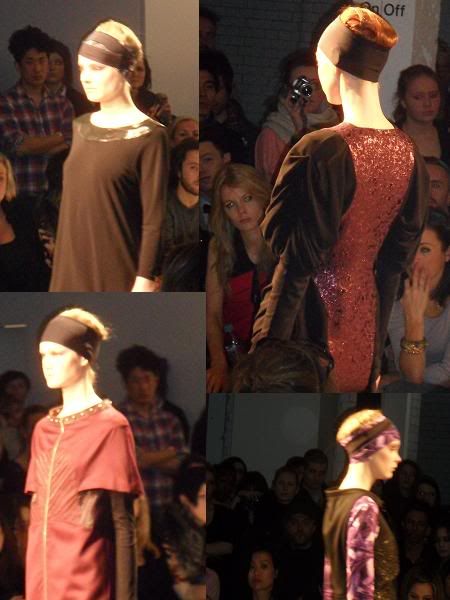 Somebody in the crowd afterwards compared this show to one from Alexander McQueen. I couldn't agree less, but that doesn't detract from the fact that it was a great show: fun, great music, great dresses, and a couple of showstoppers to get us all talking afterwards.
Love, Tor xx