On Friday night I went to see Lady Gaga at the 02 arena in London. It was absolutely fabulous! I'm a massive Gaga fan and the show didn't disappoint: the music, the spectacle,
the costumes
! I could gush for hours about how wonderful it was .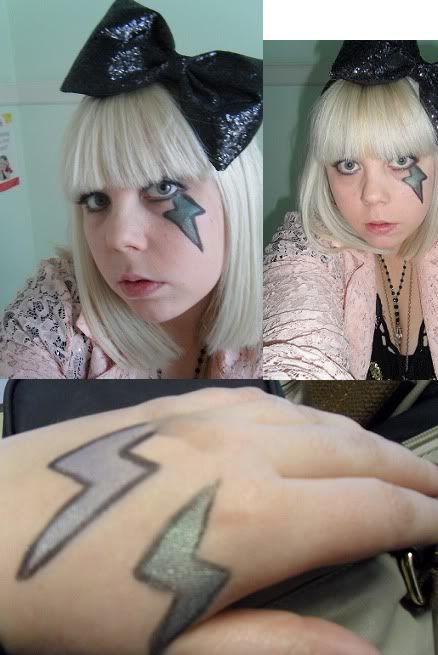 Naturally I decided I had to Gaga up a little: I went for a skin coloured lace jacket, sparkly top with leggings, and a giant sparkly hair bow. My
piece de resistence
was the lightening bolt below my eye: I practiced it on my hand before I dared apply it to my face: it was all very Gaga! There were quite a few other people in costume: one girl was wearing a very skimpy leotard, but not as many people were in costume as I thought there would be.
For those of you that want to try the lightening bolt yourself (who wouldn't!) I found the best way to do it was to draw the lightening bolt with a pencil liner, then I filled it with Urban Decay eyeshadow which I mixed with water to make it a paste. Then I went around the lightening bolt again with a liquid liner. It stayed on all night, and was still on my face when I woke up with a hangover the next morning!!
I am aware though that you don't want to see pictures of me: you want to see pictures of the lady herself!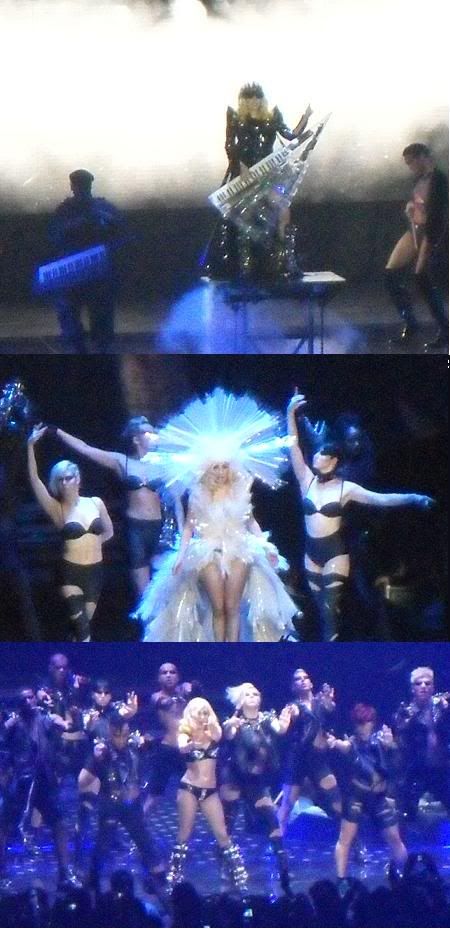 The middle dress was fantastic: it's called the living dress and it moved as she danced, like it had a life of its own. Towards the end of the performance giant wings flew out from the back. The studded boots in the final picture were fabulous, though they broke mid performance. She didn't take them off though and joked that she didnt want her audience to see her without heels. And isn't it time someone brought back the keyboard guitar?! Love it! I know i'm gushing, but I'm developing quite the girl crush! I heart Lady Gaga!
Love, Tor xx
EDIT: When its finished processing, here is a brief video I made of the Lady singing Love Game. Such a great song!