This will be my last London Fashion Week post. I feel really lucky and privilaged to have been invited to so many shows and had a really great time. But i'm glad it's over and life can go back to normal; i'm still feeling really run down and looking forward to a long bath and a night without lots of posts to write up!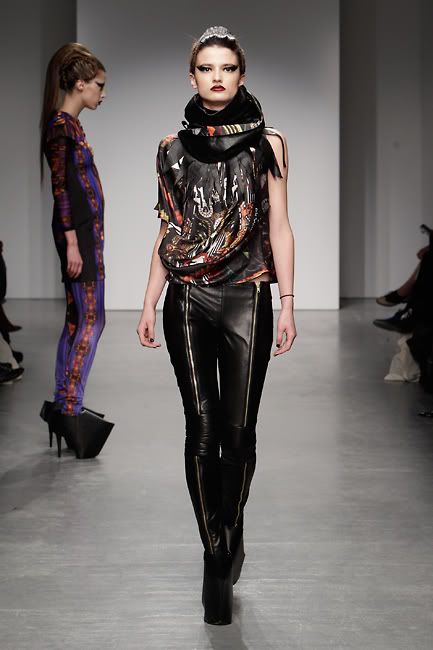 I always love the Belle Sauvage show; I am a massive fan of their digital prints and bold use of colours. And check out those futuristic shoes! But this season is much darker than last one with more focus on black and monochrome than on the acid brights of last year. This collection was inspired by the industrial imagery found in German expressionism especially in early 1920's films.
I just love it, especially the faces printed within the fabric: Black and white prints of fierce piercing eyes and daunting faces leave a lasting impression. As well as the usual silk prints this year the brand explored new elements adding quilting and Swarovski stones to wool and silk fabrics.
What I most love is that each piece is like a work of art; the more you stare at each collage the more you find to look at, and there's always something new to explore: An incredible show!

Love, Tor xx

PS -Before I say "so long" to LFW for another six months, I also want to say thank you to my Style Compare, their sponsorship definitely made my week a little easier! I hope you guys enjoyed all the coverage too!