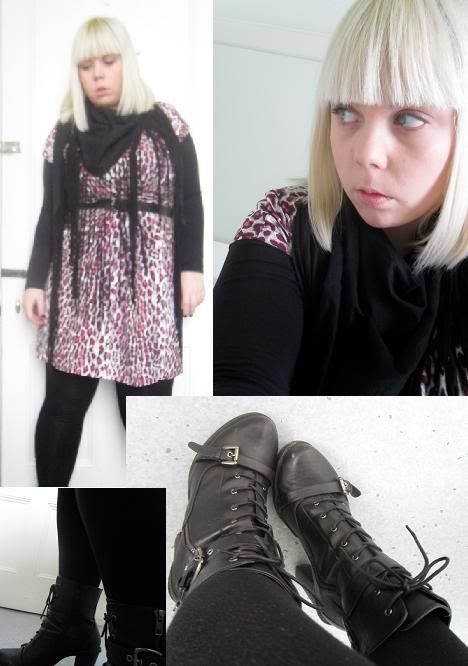 Yup that's right, i'm a tiger. But only if tigers come in electric pink! I love unnatural coloured leopard prints, but especially those that come in vibrant colours such as blue and pink. Leopard print in itself is fairly attention grabbing but subverting the colour only draws further attention to it; it also implies youth!
.

This dress is from
Matalan
and was an absolute bargain: I got it in the 70% off January sale for just £5. I'm wearing it with the suede and cotton scarf Mike got me for my birthday last year, my usual winter combo of thermal top and leggings, and my heeled biker boots.
.

I got these biker boots for a Christmas party and then left them under my bed at my parents when I went up for the festivities. I visited the folks this weekend and retrieved them: it feels like i've had something new and i've fallen in love with them all over again. If this is what "shopping your wardrobe" feels like then I heartily recommend it: I can't wait to have a couple of hours in my wardrobe this weekend and see what other treasures I unearth!
.

I'm going to see
the princess and the frog
tonight: you know how I feel about Disney! I'm hoping it will make me release my inner princess and finally wear the long lace skirt from River Island that i've had stashed in my wardrobe for the past twelve months. It's very romantic and delicate but insanely difficult to find anything to go with it. Shopping my wardrobe, here I come!
.

Love, Tor xx