Hi guys,
I wrote a couple of weeks ago
about my acquisition of a gorgeous Hornsea terrine and coffee jar for the bargain price of £2.50 for both pieces. But I definitely excelled that bargain on the Dagger Road carboot sale in Edgware this morning (If you live in the area, this car boot still has plenty of stalls, despite the fact that the summer season is over; it stays open until the end of October!)
I picked up a 40 piece 1974 Hornsea dinner service in the daisy pattern and the mustard/orange colourway for just £20. That works out at just 50p a piece!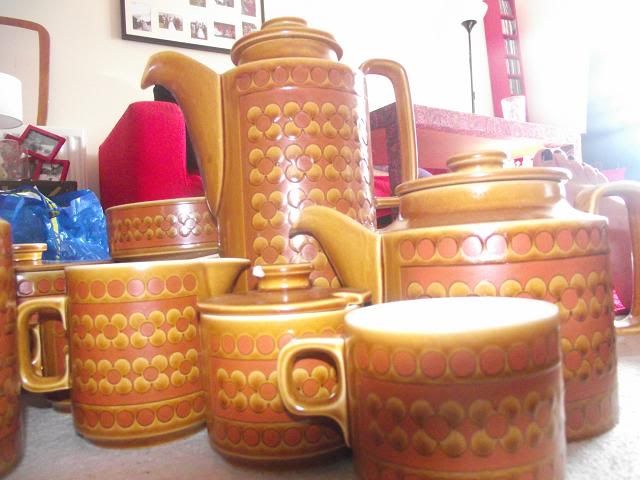 The set included the sugar, tea and coffee jars, three large terrines, the coffee and tea pot with the sugar bowl and milk jug. There is also the gravy boat, three serving platters, six teacups and saucers, six plates, six bowls, and vinegar and oil jars. The only set that wasn't complete was the dinner plates: sourcing them will become my next mission!
I love Hornsea table wear. For me, it's one of the iconic prints of the seventies. I love all of their designs, but I am especially a fan of the heirloom range, which is the pattern of the pieces I got on my last trip. This particular collection is called Saffron and it was produced from 1972-1990 (as I said, this is the '74 version). It's amazing what google can tell you about your carboot purchases!
I've never been a big fan of matching, so I will be filling in the gaps in my collection with pieces from another of the patterns and colour ways.
I am a massive advocate for shopping on car boot sales, especially if you like vintage pieces. This same set would have cost ten times as much if i'd been shopping in an antique shop, and apart from that, once you start car booting, the thrill of finding something special becomes almost addictive. It's also environmentally friendly (why buy something that has to be produced new, when something you might fall in love with already exists) and it's a whole lot of fun!And it's not just good for homewares: I also often get great bargains on boots and clothes too!
If you're thinking of giving it a go, then check out the fabfrocks guide to carboot sales.
Have you had any car boot bargains this weekend?
Love Tor xx