Hi guys,
It's that time of the year again: time to put all of your summer clothes to the back of your wardrobe, pull out your tights and jumpers, and have a complete wardrobe overhaul! Two weekends ago, Mike and I even went to Ikea to buy a new chest of drawers so I could turn my floordrobe into something almost resembling order. Sadly I haven't actually filled it yet!
Ahead of London Fashion Week, and because it's wardrobe clearout time, Weight Watchers are raising money for
Tommy's charity
with a 'Clothing Amnesty Initiative', whereby supporters can donate unwanted clothes via the clothesforcash scheme – and raise £10 per bag!
They're also asking the public to get behind the amnesty by telling them their Clothes Confession - that item that you've bought but have only worn once - via their
new Facebook app
. And in return for this Clothes Confession, Weight Watchers will donate 10p directly to the charity.
And because I can't ask you to do something I wouldn't do myself, here's mine: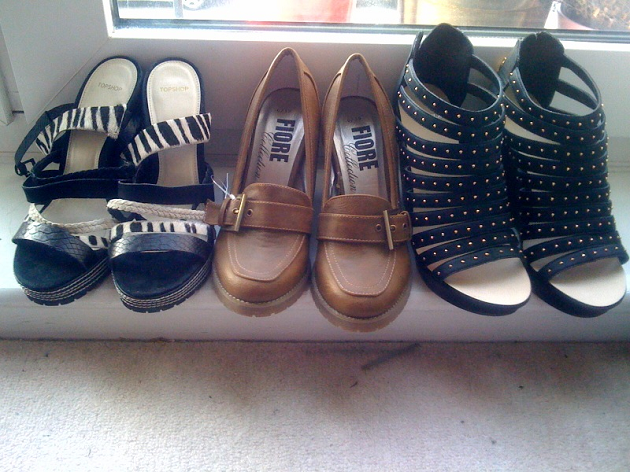 Shoes are my weakness: especially shoes with high heels! However sadly, I also have really sensitive feet. Which means I am the proud owner of an army of shoes I love to look at, but can never wear (unless I'm prepared to suffer blisters and bleeding which, let's face it, just isn't sexy!)
I'll never throw them away (they're just too pretty!) but my clothing confession is that all three of these pairs of shoes still have the labels on, because I've never actually worn them and got out of my front door! Am I a tad ashamed? Yes! Does this mean I'll stop buying my beloved heels? Definitely not!
Love, Tor xx