Hi guys,
Well after weeks of endless chatter and hype, London Fashion Week has finally arrived. I always love fashion week: as well as the fantastic shows, I love to people watch and see an amazing array of outfits. I also love having the chance to meet some of my favourite bloggers and brands: it makes a nice change to be surrounded by so many creative people, and fills me with new exciting ideas. Anyway, enough of my fashion week gushing!
Obviously I will be writing up all my favourite first day shows shortly, but first, here's what I wore for day one: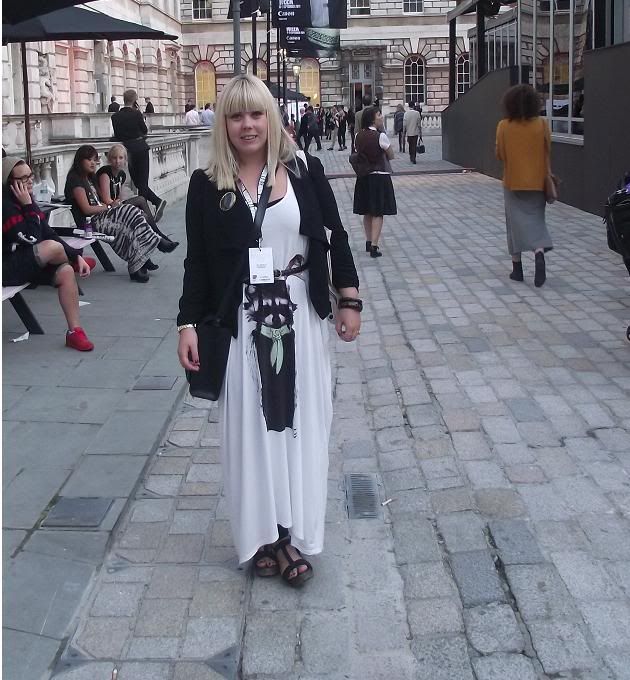 Yes I was brave, and gave the Topshop Unique raccoon dress a go for non-holiday wear! I'm wearing it with my waterfall jacket and watch from
Clothing at Tesco
. The belt is from Dorothy Perkins. The brooch is vintage. The bangles are See by Chloe. The shoes and bag are both c/o
Sarenza
.
The more observant amongst you will note that my fringe is no longer in my eyes! Yes, I had a lovely wash cut and blow dry this afternoon, courtesy of the
Toni and Guy
blow dry bar in Somerset House. I had a couple of inches taken off the bottom in an attempt to even up the layers, which I'm growing out. It's looking thicker and better already!
Right now I'm snuggled up on my sofa in my pajamas and with my favourite blanket. The perfect place to be to write up some show reviews: they're coming soon!
Love, Tor xx