Hi guys,
For as long as I can remember my mum has had a Country Roses dinner service. It is a precious thing in the Brierley house to be treated with deference: you know it's a really special occasion when you're allowed to eat your dinner off it, and I always regarded it with awe. Which is why when Mike and I went to do our wedding list I knew I wanted a beautiful fancy tea service of my own: a potential future family heirloom.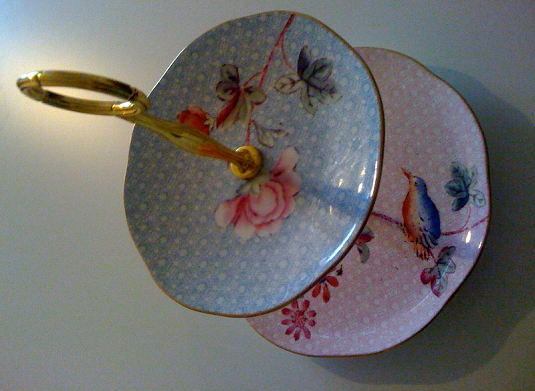 I immediately selected this gorgeous Cuckoo afternoon tea set from Wedgwood (We got ours from
Debenhams
, but you can get it from almost any department store or Wedgwood direct) and I am now the proud owner of a teapot, 4 tea cups and saucers, 4 tea plates, a sandwich tray, a milk jug and sugar bowl, and a cake stand. In total, the whole set cost more than my car. (That probably says more about my old battered car than the cost of modern teasets, but it was still really expensive!) But it's totally worth it. It sits in a cabinet in our living room where I can see it everyday, and every time I walk past it it makes me smile.
I love afternoon tea. I love the ritual of it, the taking time out from your busy life. And frankly, I love the cake! But you don't need an overpriced matching afternoon tea set to get involved: in fact, it's probably cooler if you don't! Shabby chic is all the rage, and mismatched tea sets are everywhere: that's how most London tea rooms will serve you (trust me: afternoon tea is my monthly indulgence!) and it looks great!

Looking for a tea set on a budget? Hit up car boot sales and charity shops! You'll pay more if you're looking for a full matching set (between £10-100 depending on the pattern and brand) but for oddments and one off pieces (to create an eclectic set of your own) expect to pay from 50p per cup and saucer, from £1 per tea plate, and from £2 for a cake stand. Happy bargain hunting!

Love, Tor xx