Hi guys,
In just 6 short days,
Westfield Stratford City
will be opening its doors to the public. Last week, I was invited for a sneak peek around the new shopping centre: and I was impressed!
The centre is working on an indoors-outdoors concept: the whole place feels so light and airy, and there is even an outdoors shopping street as part of the complex. Unlike Westfield London, there isn't going to be a premium shopping area (which doesn't bother me, as I couldn't afford to shop there anyway) but there is going to be a Primark as well as a market place area for smaller independents: a sign that the target demographic is younger, trendier, and less affluent perhaps?!
It's amazing to think that this will be finished in less than a week: it looked like there was so much work to be done, although there was also more builders than i've ever seen before!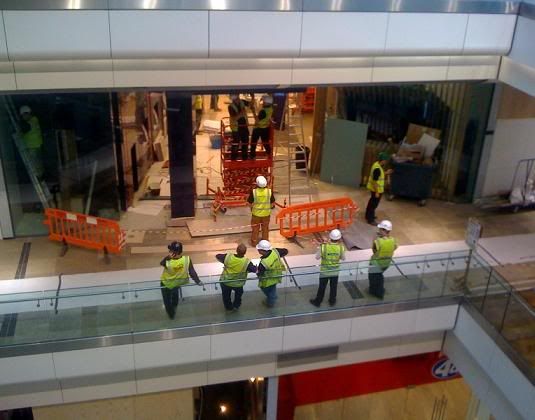 Every article I've read about this new Westfield so far has talked about regeneration. And as amazing as I think it is that this mall is boosting the economy of an area that really needs the support (not to mention creating 1,200 new jobs) I know as well as you do that what really matters when choosing whether to shop somewhere is how good the shops are! So here is a tip-of-the-iceberg list: John Lewis, Primark, Wolford, True Religion, Miss Sixty, Miss Selfridges, Pull and Bear, Uniqlo, and Fashion Rocks.
The centre will also feature 70 resturants (think Jamies Italia, Bumpkin, Wahaca, and many more), two hotels, a huge cinema, an All Star Lanes bowling alley and even a casino.
As a North West London gal, this will never be my local shopping centre (Although if Westfield want to remodel Brent Cross, I'll be very grateful) but I think the lure of my favourite shops, not to mention the whopping 70 restaurants, means I'll be forcing Mike into the back of the car (the centre has 5,000 parking spaces) and having a day out soon!
Will you be visiting?
Love, Tor xx
PS - I'm not being paid to say this or anything, but do check out the
Westfield Stratford City website
: it's very cool, and has lots of great features and East London stories.